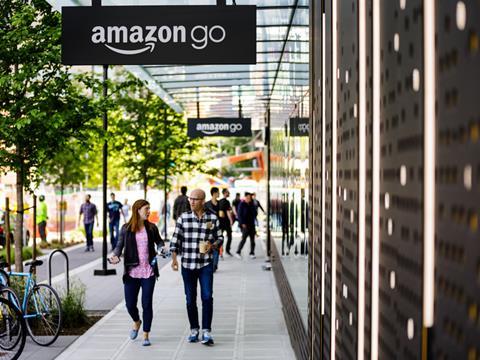 Amazon Go is a Goer. As The Grocer revealed this week, it's acquired a number of sites in key central London locations - proving that a leaked brief from the online giant to real estate brokers in January - in which it said it was looking to acquire sites in several parts of the country "including but not limited to" London, Surrey, Kent, Berkshire, Buckinghamshire, Hertfordshire, Essex, Middlesex - isn't just another windup.
It's been difficult to take these reports entirely seriously. There are only 10 sites in the US (vs 7,875 7-Elevens) so it's not exactly captured the convenience market; this isn't a case of rolling out a successful formula in a second market.
At the same time, analysts are sceptical that the concept will be sufficiently differentiated here, as the UK grocery market is so much more automated, with self-scanning checkouts used almost universally. Certainly the scan-on-the-go concept is old hat: Waitrose introduced self-scanning devices as early as 2002 (Go Waitrose!). And since 2016, it has been available on mobile at the likes of Tesco and Sainsbury's (and Waitrose). As to Amazon Go's checkout-free scan-and-go solutions, in the past year Sainsbury's, Tesco and the Co-op have all trialled their own versions, with interesting but inconclusive results. A bit like Amazon's experience in the US, in fact.
But perhaps Amazon sees our facility with self-scanning technology as a strength, making the UK a better test bed than the US. It's also intriguing to wonder how the concept might evolve from the current US model. In the US there is no connection between the 10 Amazon Go stores and the Amazon Fresh operations in its widespread DC network. Then again, Amazon has 354 Whole Foods outlets supporting its online operations. So there is no need to integrate Amazon Go stores.
At the same time, in the UK, its Amazon Fresh offer remains limited to a select number of postcodes in and around London. And there's no big store infrastructure (for now, at least).
So, if Amazon is serious about convenience in the UK, it may have to buy, especially if it wants to scale up quickly. On the other hand, there is no shortage of empty shops…

Adam Leyland has been editor of The Grocer since 2006.

An authority on issues as diverse as food pricing, binge drinking, a host of consumer trends and new product development, as well as the power and reach of supermarkets, Adam is a very well-known figure in the industry, and makes regular appearances on the BBC, ITV, Sky News, Channel 4 and other media, as well as chairing conferences and hosting awards.

He was named Editor of the Year by the British Society of Magazine Editors in 2009, and has picked up a string of other awards over a 20-year career editing weekly business magazines such as PrintWeek, Press Gazette and the US edition of PRWeek. He was also editor of Real Business, a magazine for entrepreneurs and SMEs.

A lifelong 'foodie' and 'winophile', Adam is a passionate campaigner on behalf of healthy, natural food, and promoting the merits of a balanced diet and common sense in the ongoing debate about obesity.