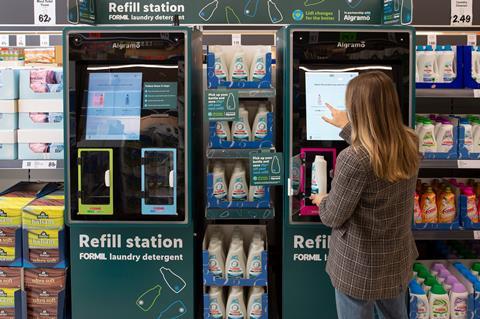 Lidl has introduced a laundry detergent refill station that uses automation to reduce the chance of spillage.
The discounter is selling reusable bottles containing a 'smart chip' that can be recognised by the refill station. The machine then automatically dispenses the correct amount and prints a label.
It makes the refill process "simple and fast" while "helping to avoid any awkward spills created by manual refill machines", according to Lidl.
Four varieties of Lidl own-brand detergent are available from the machine, which has been introduced in a six-month pilot in a store in Kingswinford, West Midlands.
The first the time they use it, shoppers will pay the same for the refillable bottle and detergent as they would for a standard single-use bottle. They will then save 20p over the cost of a single-use bottle with every subsequent refill.
The refillable bottles are 100% recyclable and could save a claimed 2,970 single-use plastic containers over the course of the pilot, which is in partnership with Chilean sustainability startup Algramo.
"At Lidl, we believe you shouldn't have to pay more for doing the right thing," said Lidl GB CSR manager Mark Newbold.
"It's why we're especially proud to be trialling this pioneering refill technology that not only helps customers reduce their plastic usage, but also their weekly shopping bill."
Lidl said the pilot was the first step in its partnership with Algramo, with plans for further trials later this year.
Algramo UK country manager Chris Baker said: "We are very happy to help Lidl customers make simple everyday actions more sustainable. During 2021, just in Chile, we managed to reuse more than 250,000 plastic bottles, that are still being used by consumers, keeping more than 30 tonnes of plastic in the economy and out of the environment."
Aldi has also been trialling a refill station since last year, dispensing staples such as rice and pasta.