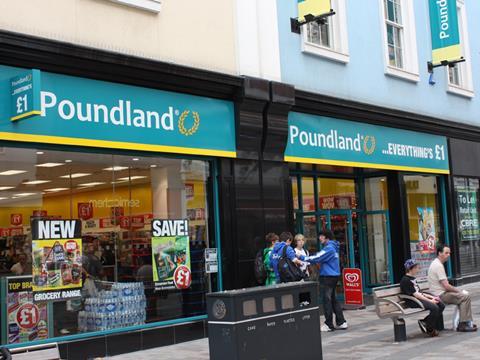 Sales at Poundland soared through the £1bn barrier last year after the fixed price discounter achieved an 11.8% revenue boost on a constant currency basis.
Overall reported sales, excluding its trial in Spain, were up 11.4% to £1.11bn in the year to 28 March - slightly down from the 13.3% growth achieved during the period year.
On a like-for-like basis, Poundland achieved 2.4% growth, slightly up from the 1.9% like-for-like growth seen in its 2014 financial year.
During the fourth quarter sales increased by 7.1% on a constant currency basis, a rate of growth down from 13.9% in the fourth quarter last year. On a reported basis sales, again excluding Spain, were up 6.5% (against 14.4% in the 2014 financial year).
The slower rate of growth is partly attributable to a slower rate of store openings last year, with Poundland opening ten fewer stores than in the previous year.
However, Poundland chief executive Jim McCarthy said its store opening programme was on target last year and the group has "a very strong pipeline of store openings for the current financial year".
Poundland did not elaborate how reliant its store expansion plans were on securing approval for its takeover of the UK's 99p Stores acquisition.
Last week the UK Competition and Markets Authority's said it planned to scrutinise the deal in more depth unless it received certain assurances from Poundland by Thursday 16 April. Poundland said today it was "carefully considering" the CMA's statement, but did not hint further at its response.
Chief Executive Jim McCarthy, said: "Despite tough trading conditions, Poundland continues to perform well and we served an average of 5.3 million shoppers a week during the quarter.
"We have managed our costs and cash well, and we expect underlying pre-tax profits to be in line with market expectations for the year as a whole… We expect to continue to deliver our growth strategy in the new financial year, notwithstanding some headwinds from a weaker Euro and a tough comparable in the first half."
Shore Capital Clive Black said this morning: "Whilst so, it is fair to say that Poundland has faced some headwinds in Q4 FY2015 that have temporarily held back its top-line progress with management describing current trading conditions as 'tough'. Aside from well versed challenging comparatives, the group has continued to open stores later in the period than previously anticipated".