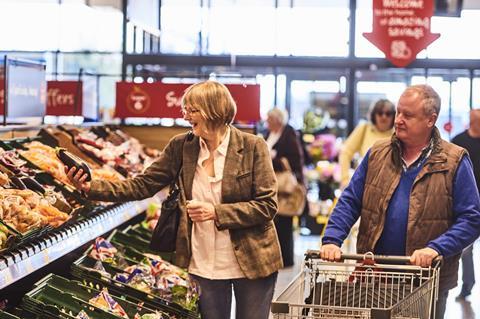 Ocado's new 'There's an Ocado just for you' slogan and Aldi's seven-note jingle are the most memorable 'sonic logos' of all UK supermarkets, according to an index by audio branding agency SoundOut.
The new entrants to the latest annual SoundOut index were both ranked higher than Asda – the highest-ranked supermarket in the 2021 index. Tesco's efforts over the past year saw it also move ahead of Asda in the latest index.
Ocado's sung slogan was launched as part of a major multi-channel brand campaign in May last year. The catchy line – considered "aurally annoying" by some viewers – ranked at 22 of all UK brands in the sonic logo effectiveness index, based on the appeal, perceived brand value, personality match and brand recognition prompted by jingles.
However, Aldi's short jingle – used at the end of all its TV adverts – was found to be the 11th most effective. It was placed significantly higher than its discounter rival Lidl, ranked 49th.
The most effective sonic logo, however, was for food courier company Just Eat – which retained its top spot with its "Did somebody say Just Eat?" sound signature – followed by Intel and Moonpig. All three of the brands were "capitalising on the subconscious power of music to engage with their consumers" said David Courtier-Dutton, founder and CEO of SoundOut.
The index is based on more than 300,000 data points captured from 14,400 UK consumers.
Haribo, with its 'Kids and grown-ups love it so' jingle was the highest ranking fmcg brand, at nine. Pepsi, Colgate, Green Giant, Coca-Cola, Aquafresh, Old Spice and Night Nurse also featured in the top 60 most effective sonic logos.
"By subconsciously influencing consumers' perceptions through audio triggers such as sonic logos, brands can build stronger relationships with customers, ultimately leading to enhanced brand recognition and increased brand equity," said Courtier-Dutton.
"In 2022, brands will get more strategic about how they use their sonic assets," he added, "leading to a growing value divide between brands that have a sonic strategy and those that do not."