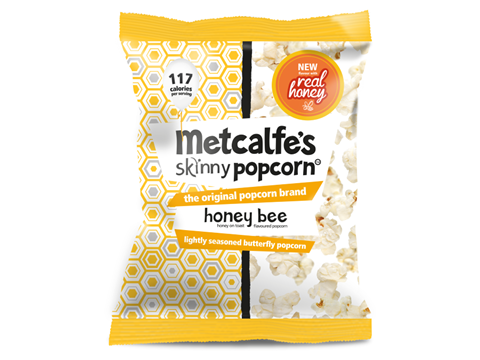 The US owners of Tyrrells and Metcalfe's Skinny are facing a court battle over their rival popcorn brands.
Amplify Snack Brands, which snapped up Tyrrells for £300m in August 2016, has filed a federal trademark infringement and unfair competition lawsuit against fellow snack manufacturing giant Snyder's-Lance in an attempt to stop the launch of Metcalfe's Skinny Popcorn in the US.
Amplify said in a statement the lawsuit was intended to halt Snyder's "deceptive use and importation of popcorn products" copying Amplify's SkinnyPop trademark.
SkinnyPop is the biggest popcorn brand in the US, with annual sales of more than $200m in thousands of retailers across the country and a market share of about 25%.
Amplify added it had recently learned that Snyder's was seeking to launch Metcalfe's Skinny Popcorn as a competing popcorn brand in the US.
Snyder's – which acquired Kettle owner Diamond Foods for $1.3bn in 2015 – completed its takeover of Metcalfe's in September 2016 under its Kettle Foods subsidiary, after taking a minority stake at the start of the year.
The complaint by Amplify alleged that Snyder's actions constituted "willful infringement" of its trademark and "an obvious attempt to confuse consumers".
CEO Tom Ennis said: "We believe in fair play and fair competition. Snyder's-Lance and Metcalfe's effort to copy our brand name is flattering but not how trade competitors should behave.
"Even now, infringing products are being sold by Snyder's-Lance and Metcalfe that include false registration marks and which are attempting to trade off of the goodwill of our SkinnyPop brand.
"We look forward to defending our mark and securing a just result from the Court."
Amplify, represented by J. Noah Hagey and Tobias Rowe of BraunHagey & Borden, filed the lawsuit in federal district court on 11 April 2017 in Austin, Texas.
At the time of Amplify's takeover of Tyrrells, Ennis said that, as well as bringing Tyrrells range of posh crisps and popcorn to the US, there was room to launch SkinnyPop in the UK and other markets. Amplify has had the SkinnyPop trademark registered in the UK since 2014, according to the Intellectual Property Office.
The Grocer has requested a response from Snyder's-Lance and is awaiting a response.