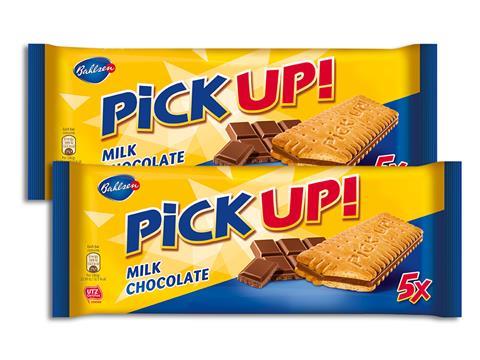 German biscuit brand Bahlsen is to give away 500,000 Pick Up! multipacks this summer, in a £1m effort to drive brand awareness and help take the edge off "a tough few months" for Brits.
Kicking off this month, the sampling activity begins in 100 Tesco stores around the UK and is expected to expand into other supermarket retailers nationwide.
Shoppers will be given a leaflet with their pack of five biscuits, featuring a call-to-action to tweet using the #PickUpPickUp hashtag, for a chance to win weekly prizes – including biscuit hampers and cash – from the dedicated Pickuppickup.co.uk microsite.
The promotion, which sees the brand investing £1m, will be supported by a wider PR and marketing drive as part of the 'It's not just a biscuit. It's a Bahlsen' campaign. The brand's overall objective is to attract 250,000 new households by December.
"We are proud to have conceived such a truly pioneering sampling initiative," said the supplier's trade marketing manager, Julien Lacrampe. "Currently, our Pick Up! range is worth £5m of retail sales with a 4.2% household penetration, and we look forward to seeing our sampling drive bolster this figure."
He added: "We've had a tough few months, so what better way to help pick up the nation? We believe that everybody deserves a better biscuit."