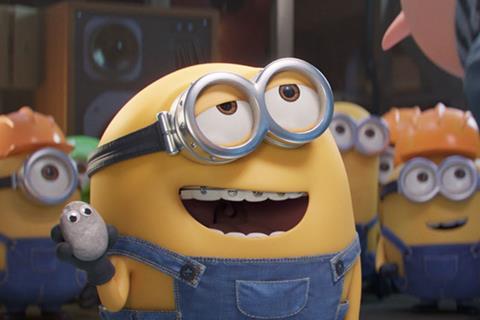 Personal shopper service Beelivery has launched a marketing campaign based on the movie Minions: The Rise of Gru, which was released this month.
The six-week campaign includes a 30-second TV spot, which introduces new Minion character Otto.
Beelivery has also launched several limited-edition Minion-themed grocery bundles such as Gru's Superfood Bundle, Minion Kevin's Disco-Boogie Bundle, Minion Bob's Big-Screen Bundle and Otto's Despicable Desserts.
During the campaign, with every order placed on the Beelivery app, customers are being given the chance to win a trip to San Francisco – where the film is set – which involves a private city tour in a hippy bus and a roller-disco experience.
"Beelivery is the best performing 'on-demand' grocery delivery service in the UK. We are also the best-kept secret in UK grocery delivery," said Beelivery chairman Yazan Bin Mohammad.
"To partner with Illumination's Minions: The Rise of Gru is a real coup for Beelivery. Our co-branded campaign will help raise awareness across the UK of Beelivery's service, playfully aligning with the iconic Minions – who are willing to go above and beyond to support their leader Gru – with Beelivery's service ethic and performance," he added.
Beelivery's model sees orders coming via its app pinged to drivers in the area. The drivers shop the order at a supermarket, and then deliver it. Drivers pay out of their own pocket for the shop, submit receipts to Beelivery and are reimbursed the following day.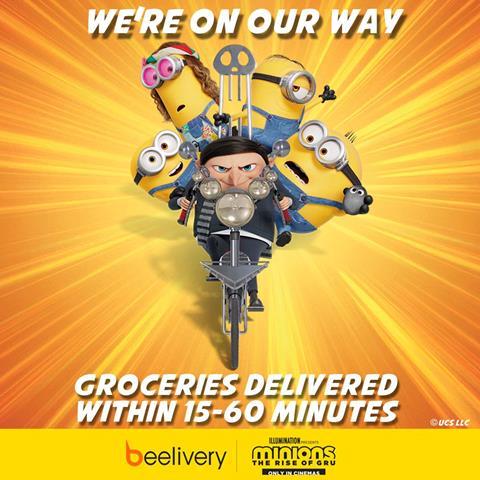 The service is offered to customers 24/7. The average delivery time is 46 minutes, Beelivery said, with 21% of orders delivered in under 25 minutes. Its riders cover 90% of all postcodes in the UK, the company claims. Beelivery says it has more than 100,000 registered personal shoppers on its platform.
The brand launched its first TV advertising campaign in July last year, and also ran a targeted campaign on Facebook to recruit women drivers and riders. In February it acquired alike business Pinga.
A sequel to the spin-off prequel Minions (2015) and the fifth of the Despicable Me franchise, Minions: The Rise of Gru has sparked a TikTok craze after users started filming themselves watching the film in suits and formal attire, calling themselves Gentleminions.
Large groups of Gentleminions have recorded themselves cheering in cinemas, and throwing bananas at the screen – a reference to the movies – leading many cinemas banning groups of customers arriving in smart dress.
The movie debuted this weekend atop the UK and Ireland box office with sales of £10.4m, according to numbers released by Comscore.
Several food brands have partnered with studio Illuminations on the movie release. Among them are chickpea puff snacks brand Hippeas, which has released limited-edition Minions-themed snacks in three flavours, and recipe box brand HelloFresh.