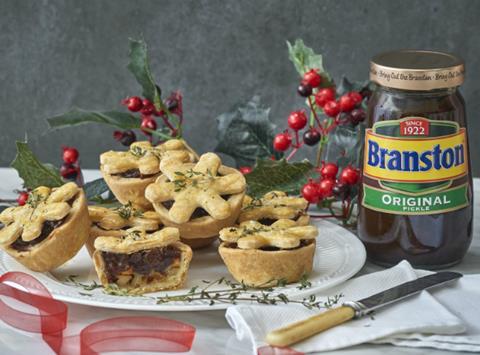 Branston has made seasonal foray into snacking with the launch of a cheese & pickle mince pie.
Made in partnership with East London baker Lily Vanilli, the pies are made with cheddar, new potato, thyme and Branston Pickle. They come as part of the condiment brand's ongoing Please the Cheese campaign to re-engage existing Branston shoppers and attract a new, younger audience.
They are available for £2.50 each via Lilyvanilli.com and from the bakery's store on Ezra Street.
"At Branston, we truly understand the UK's love for the cheese and pickle combination, so we wanted to give this a fun and festive twist," said Nisha George, senior brand manager at Branston.
"Christmas is a key period for people to indulge, so we thought creating a cheese and pickle mince pie would offer them something a little different to celebrate the iconic flavour pairing."
Lily Vanilli boss Lily Jones said the pies were "a great celebration of the Christmas classic while heroing the cheese and pickle combination the nation loves".