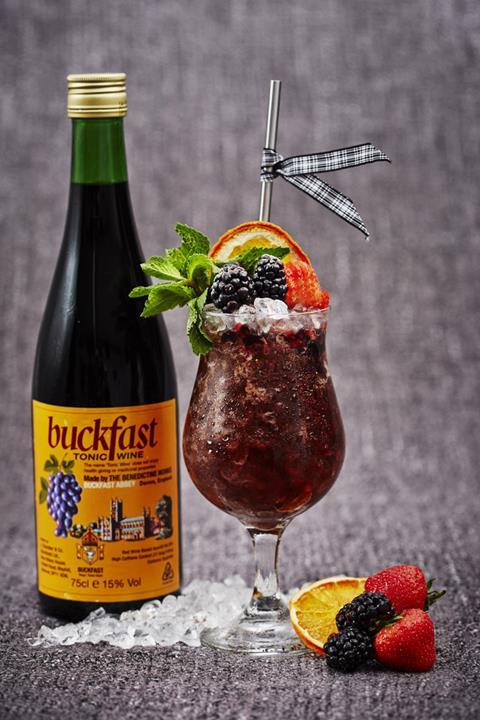 Roll out the barrel! Britain's biggest booze brands have racked up an extra £221.8m in the past year. What's more, the top 100's combined 3% value growth is mostly down to shoppers paying more for their poison or switching to a better quality quaff; average prices have inched up 1%.
Pricier mainstream brands such as Smirnoff (the fastest grower in our 2015 Biggest Alcohol Brands report), Bombay and Oyster Bay are to thank for much of this. And there's no shortage of brands looking to enter the top 100 this year by playing the premium card.
These include Tanqueray, Aberlour and, erm… Buckfast Tonic Wine.
I kid you not. The 15% abv tonic wine, currently Britain's 104th biggest booze brand, has its sights set on entering the top 100 by attracting cocktail supping foodies and breaking its links with binge drinking through a partnership with Michelin-starred chef Martin Blunos and top mixologists.
"We feel we have been singled out unfairly," says sales manager Stewart Wilson. "We tend to be used as a political football for whatever reason, but we are no different to any other alcoholic drink and we see ourselves as a responsible company."
To distance the brand from its binge drinking associations, Buckfast is due to launch a new website showcasing Blunos's dishes, including a chocolate tart containing a whole bottle of the stuff, and cocktails such as the fruit-packed Buckfast Cobbler (pictured).
Whether this will be enough to bury Bucky's unfortunate associations remains to be seen. After all, our analysis suggests average price has fallen, not risen, despite the 2014 launch of 25cl cans carrying a higher average price per litre.
And then there's Labour MSP and health spokesman Dr Richard Simpson, who's on the war path over Buckfast, claiming a recent poll of Scottish convicts found that 43.3% of them had drunk the stuff before committing a crime. Presumably not in the form of a Buckfast Cobbler…
You can see our 2015 Britain's Biggest Alcohol Brands report right here.