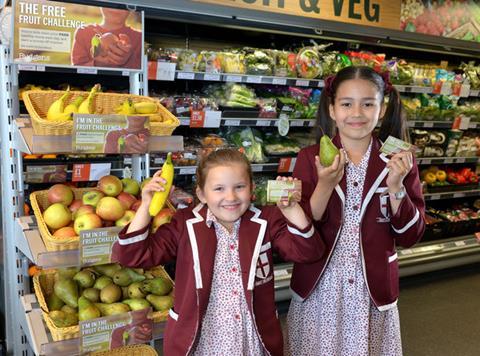 Budgens has launched a new loyalty scheme designed to boost fruit sales and to attract more families into stores.
The 'Free Fruit Challenge' offers school children of any age one free piece of fruit a day from participating stores.
Each time fruit is claimed, the child's parent or guardian can get a loyalty card stamped, and once five stamps are collected the shopper gets £2 off a £20 shop.
The giveaway follows a similar successful campaign last year, and launches at Budgens of Byfleet in Surrey this week before being trialled at stores in Crouch End and Broadstone. Once trials are completed the symbol group plans to roll out the initiative across its 170 store estate.
"This is an exciting campaign for us because it builds on our reputation for fresh produce and as a community retailer," said Budgens director Mike Baker. "We want to reach out to young families and show them everything we have to offer, this is a great way of doing that."
The campaign is being backed with point of sale marketing and in-store promotions. Money off vouchers must be redeemed within one month, at the store of origin.