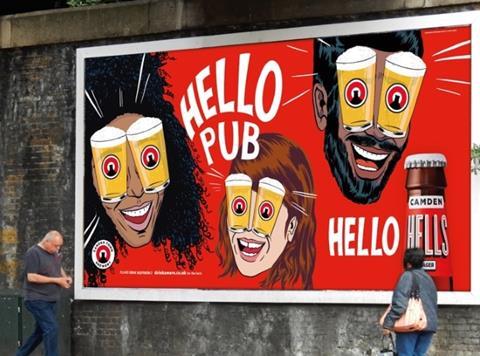 Camden Town Brewery has mounted a major push for its Hells Lager brand, with an eye to "reigniting the UK's passion" for the mainstream beer style.
The AB InBev-owned brewer's new campaign, called Hello Hells, kicks off this week, focusing on "that moment of joy when you have your first sip of lager after a long day". It will encompass out-of-home, press, digital, social and cinema ads, featuring artwork by illustrator Stevie Gee.
Camden had "noticed a real lack of passion for lager" when speaking to consumers, said the brewery's founder Jasper Cuppaidge. "People are still drinking it in their millions but the excitement has gone.
"So we decided to heavily invest in a campaign that really celebrated lager and reminded people of everything they love about cold, refreshing, full-flavoured lager like Hells."
The new drive follows Camden's first TV ad, Raise Hells, which hit screens in September featuring "real Londoners who in their own way embody the open, diverse and unconventional spirit of the borough of Camden".