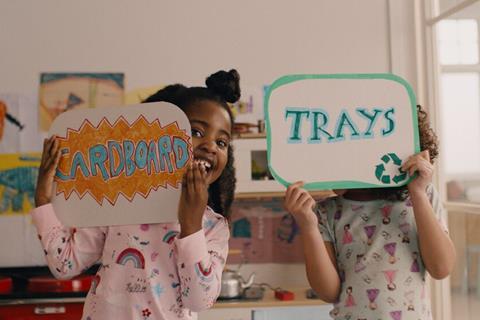 Co-op is launching a new TV advert later this evening to highlight its eco credentials as the first retailer to introduce recyclable pizza packaging.

Airing during the commercial break of Coronation Street, the new ad - entitled 'Pizza and Plastics' - tells the story of how the Co-op replaced polystyrene pizza discs with corrugated cardboard across all of its own-brand range.

The society said the move had prevented 200 tonnes of landfill waste per year.

Co-op added it was first to launch the corrugated cardboard pizza discs - manufactured by pizza producer Stateside - to the market, with other retailers since following suit.

"We continue to innovate in this area and reducing the environmental impact of products is and always has been at the core of Co-op," said Co-op customer director Ali Jones.

"We're committed in helping our members and customers help to make a difference to the world and we want to encourage communities to come together and look after the planet and spaces around us."
The new TV advert opens on a family setting where a Co-op 'Irresistible' pizza is cooking in the oven. A young girl picks up a cardboard pizza disc from the counter and draws a Co-op logo on it. Jumping between a number of different households, all holding up their hand-drawn messages in sequence, it spells out "all Co-op pizzas are so delicious plus they also come on cardboard trays making them better for" and ends with a collage of the world.

Co-op recently announced it would use only 100% recyclable packaging by the summer of 2020, which will include everything from ready meal trays and crisps packets to sandwich cartons and the film covering pizzas.

The retailer said it would make it easy for consumers to recycle plastic film - of which it makes more than 750 million pieces of each year - with its own national collection programme for the material, set to roll out this summer. Co-op added it would be the largest-ever UK-wide scheme to recycle plastic film, which is not currently collected by local councils.

The new TV advert was produced by creative agency Lucky Generals.