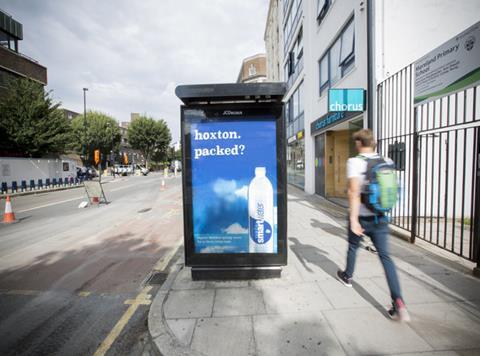 Glaceau Smartwater has launched a campaign targeting on-the-go Londoners with outdoor advertising alerts.

Partnering with the apps Crowdit and Mapway, the brand will send out push notifications to customers within 500m of outdoor adverts in Chelsea and Hoxton until the end of this month. The alerts will share tips about the city, such as the best brunch spots, from influencers such as blogger Reem Kanj and stylist Roxie Nafousi.

The London: Distilled campaign follows the brand's summer marketing campaign, which aimed to bring 'a sense of simplicity to the complex' with outdoor adverts across London.

"We're using advanced technology to distil insiders' knowledge about their favourite areas of London. We have created a simple way for busy city dwellers to receive interesting content they can enjoy in their local area," said Caroline Cater, operational marketing director GB at Coca-Cola European Partners.

Glaceau's new campaign uses beacon technology implemented by Kinetic Worldwide in partnership with Tamoco, Proxama and JC Decaux.

"The use of beacons in the London: Distilled campaign is not only groundbreaking, but also exactly what brands should be aspiring to do - hyperlocal media, serving useful content in innovative ways," said Rosh Singh, director of innovation at Kinetic.