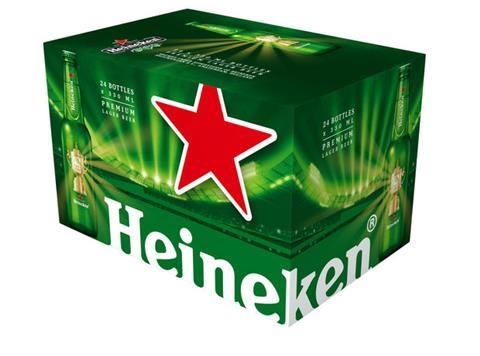 Heineken is kicking off a raft of activity on the back of its sponsorship of the Rugby World Cup.
From July, limited edition packaging will be rolled out on 650ml bottles, 500ml cans and 330ml cans and bottles. Shoppers purchasing a 12-pack will be in with a chance of finding one of 50 golden bottles that reward winners with a pair of tickets or a coin-toss experience – a behind-the-scenes stadium tour, a full hospitality ticket experience during the match, and the chance to stand alongside the referee and team captains at the start of the match.
During the tournament, which takes place in England and Wales from 18 September to 31 October, consumers will be able to win other Heineken-branded World Cup prizes on multipacks of the lager. These promotions will be supported with channel-specific POS materials designed to be situated near chillers and beer fixtures.
The activity will be supported by print and billboard ads, as well as an online chat show called the 'Heineken Rugby Show', which will feature the brand's rugby ambassadors. At the last World Cup in 2011, these included ex-England captain Will Carling and New Zealand's Zinzan Brooke.
"Heineken has long been known for its links with world-class sporting events and we are pleased to continue the trend with the sponsorship of the 2015 Rugby World Cup," said off trade marketing director Craig Clarkson.
"The activity surrounding the tournament will give retailers the opportunity to increase sales while also positioning Heineken at the heart of premium at-home social occasions surrounding the tournament. We are confident experiential and promotional activity will excite rugby fans and give retailers throughout the country the chance to increase footfall in the build up to and throughout the Rugby World Cup."
Heineken has added £8.5m in sales in the last year, taking its total value to £61.9m [Nielsen 52 w/e 25 April 2014].