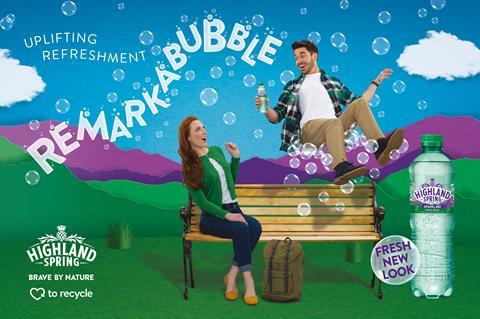 Highland Spring has mounted its "biggest ever" marketing push, a new campaign called 'Remarkabubble'.
The push, which kicks off on 26 August and will run for four weeks, is designed to "address the changing consumption habits of sparkling water by championing its role as a refreshing treat at any time of day".
It will span outdoor ads, as well as digital media, PR and social.
Highland Spring head of marketing Carol Saunders said: "Sparkling water has major potential for growth if we inspire consumers to incorporate it as an easy way to feel great while they hydrate daily."
It comes as part of an ongoing £1m investment into the business' sparkling waters, which also includes numerous packaging updates.
The brand launched a new bottle in June, made of 25% recycled plastic, and has said it will move all its bottles to 25% recycled plastic by the end of this year, and 50% by 2022.