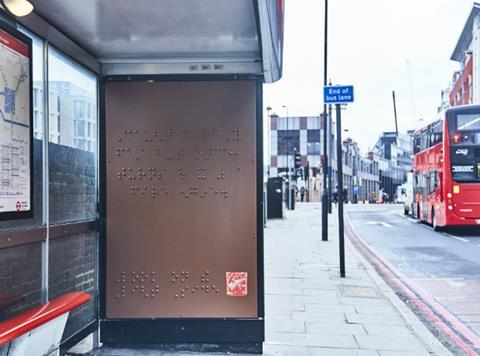 Mars Chocolate has unveiled an outdoor ad at a London bus stop to mark today's World Braille Day (4 January).
Comprising Braille made from fake Maltesers, the tactile poster forms part of the confectionery giant's ambition to champion greater inclusivity in advertising and better represent disability in media.
It reads: "Caught a really fast bus once. Turns out it was a fire engine", and was inspired by a real-life story from a focus group led by Maltesers and the disability charity Scope.
Designed in collaboration with AMV BBDO, the one-sheet in Farringdon is audio-enabled and automatically plays a recorded message every five minutes, letting people know it is written in Braille.
The one-off creative, which will run until 15 January, is the latest part of the chocolate brand's Look on the Light Side campaign, which last year saw the first-ever UK TV ad entirely in sign language.
As one of the country's biggest advertisers, Mars had a responsibility to champion greater inclusivity, said VP of marketing Michele Oliver.
"This small-scale activation is a natural next step in our ambition to get closer to our consumers by normalising disability in advertising and communications and using humour to challenge preconceptions."