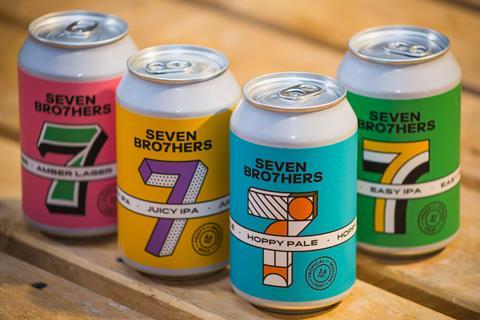 Salford's Seven Brothers Brewing Co has given its range of craft beer a makeover.
The rebrand, which cost £70k, has given the cans a "clearer and cleaner" look and made them "more recognisable as Seven Brothers" the brewer said.
It hoped the move would unlock opportunities to expand further into retail and help it to "cut through in a busy market".
Seven Brothers co-founder Keith McAvoy said the brand had been "starting to get lost next to similar marketing and can designs – and that just wasn't doing our product justice".
Nearly seven years after its launch by McAvoy and his six brothers, it was time to "shake up" the brand and "bring it back to what we are known for: the seven of us" he added.
The brewer has also overhauled its core range of beer. Session Craft Beer is now Hoppy Pale (3.8% abv), while the Vienna lager has been made "fresher" with a recipe tweak and is now called Amber Lager (4.3% abv). IPA is now called Easy IPA (4.7% abv) while Juicy IPA (6% abv) – a stone fruit citrus IPA – is a new addition.
McAvoy said the changes to the core range "needed to reflect the evolution" of the brand, adding it "now has something for everyone".