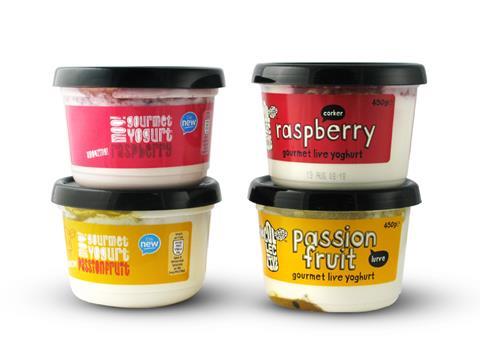 Yoghurt maker The Collective has joined sausage brand Heck in condemning Aldi for launching 'copycat' products that "dupe" consumers.

The Collective co-founder Amelia Harvey said the brand was "considering our options" after the discounter launched a yoghurt range called Moo! Gourmet Yoghurt earlier this year, which bears a striking resemblance to its own gourmet yoghurt's branding.

The Grocer revealed last month that Heck was planning legal action over Aldi's chicken chipolatas. Heck founder Andrew Keeble said the product "mimicked" its Chicken Italia sausages, and accused Aldi of setting out to deliberately "dupe" shoppers into thinking they were buying Heck's sausages and of "hijacking" the brand's values.
The two brands are also now in discussions with other brands who have expressed similar concerns. "We know that Heck and The Collective are not the only challenger brands being imitated by Aldi," said Harvey. "Their strategy is clear, they're taking cues from other brands and recreating; misleading the consumer into buying something that it isn't."

As a challenger brand, which had worked tirelessly over the past seven years to revitalise the category and offer consumers a new way of enjoying yoghurt "it's beyond frustrating," Harvey said. "We've always believed in having an open and honest dialogue with our consumers, so it's hugely disappointing that Aldi has decided to take the cues from our brand to try and fool consumers into buying a product that isn't ours."

The Collective was "all for healthy competition, but not at the expense of setting out to deceive consumers", she said, adding the brand had received "multiple contacts" from consumers "telling us that they feel duped".
Keeble likened Aldi to a "parasite" and a "ghost brand" which traded on the halo effect of "innovative British brands".

With The Collective now also expressing concerns, Keeble hoped consumers would "vote with their feet by not buying copycat brands".

"I'm all for competition in the food market, but not direct plagiarism. Effectively Aldi is like a ghost brand trading on the halo effect of really innovative British brands."

However, speaking exclusively to The Grocer this week, Aldi's UK & Ireland CEO Giles Hurley insisted it did not "seek to copy brands".

"We definitely benchmark and we look at composition, ingredients, quality, sometimes to go above and beyond and sometimes to be in line because that's where the mass market is," he said.

"What we do with our exclusive brands is identical to what the rest of the market does with own label, which is to draw cues and make products easily identifiable for customers without seeking to copy."