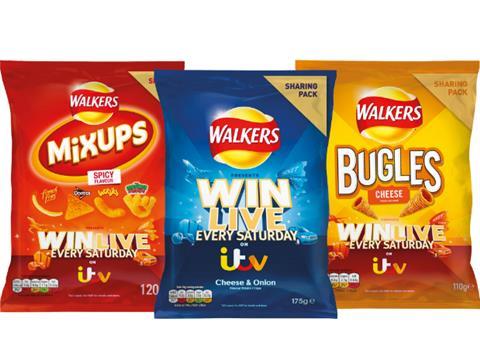 Walkers has teamed up with ITV to capitalise on the 'big night in' sharing occasion – launching an on-pack push with winners announced live on television each Saturday night.
Kicking off tomorrow (17 February), the promotion will run across sharing bags of Walkers' core range of crisps, Mix Ups and Bugles. Shoppers are invited to scan their pack with Facebook Messenger or register the promotional code with the Walkers website.
The bagged snacks giant will run three peak-time ads each Saturday for 16 weeks during shows such as Ant & Dec's Saturday Night Takeaway and Britain's Got Talent. The first slot will reveal the week's headline prize from a selection including £5,000 cash and a holiday for four.
Viewers will be reminded during the second break to submit their code, while the top prize winner will be announced in the final live ad. Thousands of smaller prizes, such as movie downloads and gift vouchers, will also be up for grabs.
Supported by in-store and digital activity, the push is the first of its kind for Walkers – and came as sharing occasions were experiencing 17% growth, according to the brand. It would "drive mass participation and excitement with consumers" said Rachel Holms, senior marketing director at Walkers owner PepsiCo.
"Our TV adverts every Saturday night will be unmissable, and the prizes will mean people won't want to miss out."