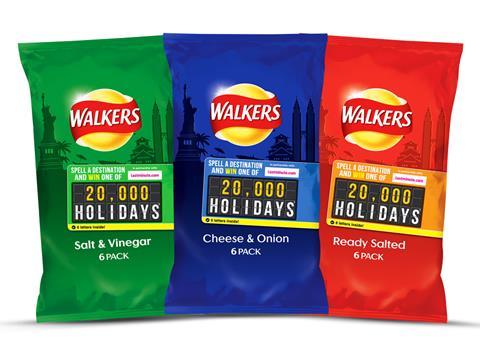 A holiday competition run by Walkers did not work fairly and could have caused shoppers unnecessary disappointment, the Advertising Standards Authority has ruled.
The decision by the ads adjudicator followed an investigation, first reported by The Grocer, into the snack giant's Spell & Go contest launched on 18 April, which attracted 112 complaints.
Shoppers were offered the chance to win a holiday for four by entering an on-pack code into the Walkers website, which then produced a randomly generated letter. To be in with a chance to win, participants had to collect all letters needed to spell out the name of one of 26 destinations listed on the site. They could select a maximum of five collected letters to swap for others that were randomly generated.
However, complainants believed some were withheld, with C, D and K never being offered. One Twitter user posted a screenshot showing source code from the Walkers site, which he suggested showed some letters were deliberately excluded from the random letter generator.
Walkers said the names of all 26 destinations included at least one of the letters C, D and K – which it called 'type one' letters. There were sufficient quantities in circulation along with ample numbers of the remaining 'type two' letters to ensure 20,000 holidays could be won, the brand insisted.
The ASA accepted the brand's explanation, but it noted the random swaps mechanism offered only type two letters in spite of the promotion's terms & conditions stating that "all letters are treated equally". This would lead consumers to believe it was possible to receive a type one letter for a type two.
Walkers later reconfigured the random swaps function to include type one, but the ad watchdog considered the site's original limitation to type two was a "significant condition" and its omission from promotional material on the brand's site "was misleading and likely to cause unnecessary disappointment to consumers".
A spokeswoman for the snacks giant said: "We appreciate the online letter swapping mechanic could have been clearer, and we will ensure all future promotions take this feedback on board."
The Spell & Go promotion was "very popular", she added, acknowledging some consumers were disappointed they didn't win a holiday.
The ASA also investigated but did not uphold a number of complaints that some promotional packs of Walkers crisps had incomplete or invalid competition codes or no code at all.