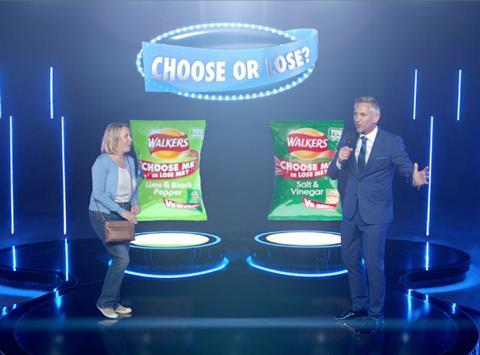 Walkers is to air the first TV advert for Choose Me or Lose Me – its campaign that has classic crisp flavours at risk of delisting.
Making its debut on 28 August, the commercial features a woman shopper unsure about which flavour to choose.
She finds herself in a game show hosted by Gary Lineker, with an audience split into two sets of supporters, Salt & Vinegar and Lime & Black Pepper, both encouraging her to choose their favourite. She eventually selects the latter to Lineker's shock and to the excitement of half the audience. The scene returns to the shop, where Salt & Vinegar has disappeared from display.
Choose Me or Lose Me kicked off on 14 August, inviting people to vote for their favourite Walkers flavours or risk losing them to new ones. It sees UK core variants Salt & Vinegar, Prawn Cocktail and Smoky Bacon take on popular overseas challengers Lime & Black Pepper (from Australia), Paprika (Spain) and Bacon & Cheddar (US).
Shoppers can register their preference until 22 October by buying a pack or going online. The outcome will be determined 80% by purchase and 20% by web vote – and the losing flavours will be axed, Walkers has insisted.
"Our customers feel passionately about their favourite flavours and like to have their say," said Thomas Barkholt, marketing director at Walkers owner PepsiCo. "We're confident the new TV ad will create awareness and inspire demand for Choose Me or Lose Me."