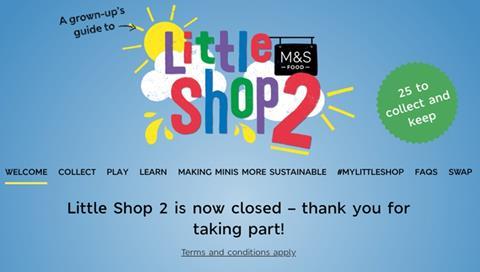 M&S has ended its Little Shop collectable toys initiative, three months after relaunching it to be more sustainable.
The retailer has faced criticism from plastic campaigners over the promotion, which saw shoppers given free miniaturised replicas of its products with a £20 basket of shopping.
Sian Sutherland, co-founder of campaign group A Plastic Planet, this week branded the inititiative "bonkers".
M&S first launched the programme in July last year, as part of its strategy to draw more families and boost basket spend. There were 25 miniatures to collect.
The scheme was relaunched this July, when M&S Food MD Stuart Machin admitted the retailer had "heard concerns from customers about sustainability".
The relaunch was intended to improve sustainability, using toys made with more paper, cardboard and repurposed materials.
From the beginning of the programme, the toys could also be returned to stores for recycling.
M&S today said 'Little Shop 2' was "only ever designed to be summer promotion, and ended when it was always intended to" end on 15 September.
Since the launch of the first round of M&S Little Shop promotion last year, both Burger King and McDonald's have moved to ditch giveaway plastic toys.
M&S's efforts to enhance the scheme's sustainability included swap events hosted in the retailer's cafés. Customers were encouraged to "play, reuse, recycle" rather than throw away.
A webpage dedicated to the programme says: "Little Shop 2 is now closed – thank you for taking part!"