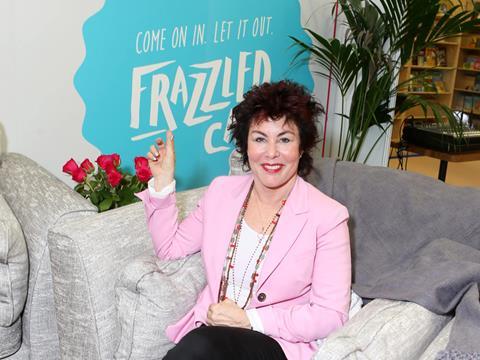 M&S has teamed up with comedian and mental health campaigner Ruby Wax to host café sessions for customers feeling "frazzled".

The retailer will start hosting sessions "over the next few months" in 11 stores from Brighton to Nottingham, with more locations due to be added throughout the year, it announced at the London Book Fair launch event yesterday.

The Frazzled Cafés will hold meetings after store opening hours with volunteer facilitators, who will encourage customers to "talk and share their personal stories in a safe, anonymous and non-judgemental environment".

The sessions are open to everyone, whether they are suffering from mental health problems or simply feeling "frazzled and overwhelmed by the stresses of modern life".

M&S said the initiative was "successfully" trialled at its offices and stores last year as part of its Plan A eco and ethical initiative.

The idea was spearheaded by Ruby Wax, who has campaigned for greater awareness of mental health over the past few years and written books A Mindfulness Guide for the Frazzled and Sane New World.

"We live in a time where to have a life crammed to the hilt is considered a success story. But with all this pressure, so many of us have nowhere to go to meet and talk about it. Frazzled Café is about people coming together to share their stories, calmly sitting together, stating their case and feeling validated as a result," Wax said at the launch event. "Feeling heard, to me, has always been half the cure.

"It's special to get a company like M&S on board," she added. "I'm grateful for the set-up support they've given us and access to their café network is a huge boost."

Wax is in the process of registering Frazzled Café as a charity. The cafés will be available in M&S stores in three London locations, Brighton, Newcastle-under-Lyme, Cambridge, Nottingham, Leeds, Newcastle, Canterbury and Norwich.