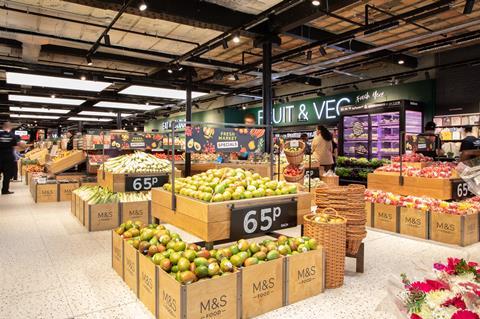 Marks & Spencer is sponsoring a new ITV celebrity cooking show, which the retailer has jointly developed to boost its appeal to scratch cooking families.
M&S fresh ingredients will feature in 'Cooking with the Stars', as the retailer seeks to reinforce its credentials beyond ready meals.
Comedian Tom Allen and presenter Emma Willis are hosting the six-part series, due to air this summer. Eight celebrities will compete against each other, facing the threat of elimination each week.
M&S worked with producer South Shore on the concept, which will see each celebrity paired with a professional chef as mentor. The mentors will also act as judges of other contestants' dishes.
"A key part of our Food strategy is to make M&S more relevant for families and for the full weekly shop, something that will be highlighted by this partnership," said M&S Food MD Stuart Machin.
"We are famous for our delicious prepared meals, but are seeing more and more families shopping with us when they are cooking from scratch too. Working in partnership with South Shore, we have jointly developed Cooking with the Stars to help us to reinforce that.
"The show has strong family appeal and will feature some products from our high-quality range of fresh ingredients and scratch cook essentials.
"This is the first time M&S Food has worked alongside a production company to jointly develop a new TV show and we are sure it will be a huge success both in the UK and internationally."
Scratch cooking has seen a massive boom in the pandemic, with consumer lives revolving more around the home, boosting sales of brands and produce that can cater for the trend. Onion sales, for example, soared in the latest lockdown, by 25% year on year, according to the British Growers Association. Meanwhile chilled ready meal sales fell last year, according to Nielsen data, by 3.6% in the 52 weeks to 5 September.
Each week, the new show will see the bottom two ranked celebrities battle each other to remain in the series by preparing another dish with no professional help. Their effort will then be judged blind, meaning the pros could unwittingly eliminate their own protégé.
ITV head of entertainment Katie Rawcliffe said: "This series is set to combine all the ingredients to deliver great entertainment, cooking inspiration, a lively competition and fantastic hosts in Emma Willis and Tom Allen.
"The past year has seen the nation developing their home cooking skills more than ever and now we'll get to see how well our celebrity lineup can cook with the guiding hand of expert mentors."