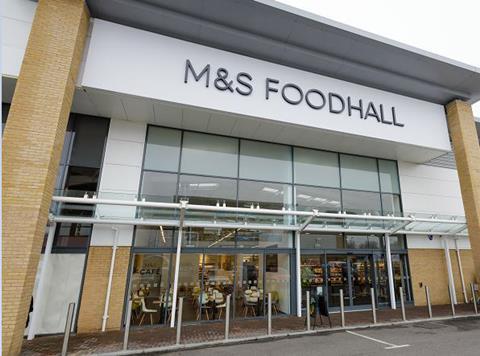 M&S is rolling out new supply chain principles across its entire estate after disappointing food waste levels hit margins in the third quarter.
Food like-for-likes rose 1.4% in the 13 weeks to 28 December, while food revenues in the two weeks before Christmas were up 4%.
But "disappointing" food waste levels were blamed by M&S CEO Steve Rowe for helping to keep forecast full-year margins at the lower end of guidance.
A new supply chain system called 'Vangarde', launched as a trial last year and now in around 90 stores, would be rolled out across the estate in 2020 to address the issues and improve efficiency, Rowe said.
"Our supply chain in clothing, home and food is a little bit clunky and a little bit expensive," he told The Grocer. "The Vangarde project is essentially about speeding up the supply chain, lowering stock levels everywhere across the supply chain and making sure we have more efficiency, better availability and lower costs and lower waste. And we're in the process of rolling it out."
Rowe blamed the disappointing Christmas waste on excessive stock levels in some categories. "We bought more than we sold. It's basically the net of what we bought and what we sold.
"We had a very strong sales at Christmas, [up] 4% as I've said. We bought a bit ahead of that in some categories and that has meant we've taken waste in a few areas. It's taken the edge off the margin, I'm disappointed with that."
Vangarde has led to a 30% reduction in food waste in trial stores, according to M&S. Using the retailer's Barnsley depot, the project has introduced new practices including increasing the number of deliveries to stores out of hours. Ambient products are delivered to stores consistently seven days a week instead of around four or five.
Other measures have included the introduction of more frequent and smaller deliveries from suppliers to the depot.
The trial principles were set out in an investors' presentation in October as a way to improve a "supply chain built for a much simpler store estate".
Speaking today as the company announced its latest results, Rowe said that despite the waste levels, "the most important thing is that customers reacted strongly to the offer and we've got momentum in the food business and we continue to improve our performance and gain market share".
He said all waste food had been distributed to charities.
M&S said in its trading statement that overall performance had been hindered by declining sales in its Clothing & Home unit, down 1.7% on a like-for-like basis in the 13 weeks to 28 December.
Like-for-like UK sales rose 0.2%, falling 0.6% on a total basis, to £2.8bn.
It said the improved trading performance reflected the company's "ongoing progress of transformation strategy" as it seeks to rebuild its fortunes after losing its spot in the FTSE 100 last September.
Rowe said the clothing performance had also been hit by "unprecedented discounting by competitors between Black Friday and Christmas".