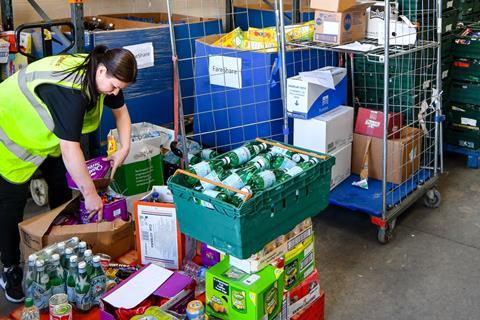 Supermarkets and suppliers will produce tens of millions of extra meals to fight hunger, in a response to plans driven by King Charles's new Coronation Food Project.
Marks & Spencer and 2 Sisters Food Group today emerged as the first partners in the new world-leading programme, which will see them produce a million meals for charities before Christmas.
Food redistribution charity FareShare is understood to be in talks with all the other major supermarkets and a host of major suppliers who are also expected to join the programme, known as Alliance Manufacturing.
The new arrangement will see supermarkets working in conjunction with their suppliers to produce thousands of tonnes of extra food, rather than just distribute waste, in what FareShare claims will be a game changer in the war on food poverty after its efforts to persuade the government to step up its funding for food surplus failed.
Last week it emerged King Charles planned to launch the Coronation Food Project to coincide with his 75th birthday next month amid his growing concern over the impact of food poverty on the back of the cost of living crisis.
M&S MD of food Alex Freudmann said previous efforts, which according to Wrap saw the total amount of food redistributed increase by 27%, or around 29,000 tonnes, last year compared with 2021, do not go far enough.
He said M&S planned to use its "deep supplier partnerships and exclusive manufacturing agreements to ramp up the use of empty capacity across its supply chain.
"This donation is just the start," he said. "In the coming months we will be expanding this work."
Ranjit Singh Boparan, founder of 2 Sisters Food Group, added: "We're very proud to take the leading role in manufacturing and donating meals for our partners M&S and FareShare.
"Never before has helping to feed everyone in need with a nutritious meal been so important, and it's very pleasing to see retailers, manufacturers and our suppliers coming together to help make this possible. This powerful alliance and the goodwill of organisations for their flexibility, generosity in giving time and resources has made all this possible, and I applaud everyone for their efforts."
However, The Grocer understands that the move by M&S is just the start of a much bigger campaign overseen by FareShare involving the industry's leading players, which will also be backed by IGD and Wrap .
FareShare has previously slammed the government's failure to intervene to tackle food poverty and critisised ministers for claiming a "success story" in food surplus redistribution while three million tonnes of food each year is going to waste on farms.
Instead of relying on government funding to boost food suplus, the King's project will see supermarkets and their supply chains systematically re-engineer their production process to ensure a better system of support for thousands of charities fighting hunger, with food banks warning that the crisis risks reaching a peak again over the winter.
King Charles has set out an ambition to raise food surplus redistribution levels to 200 million meals a year, a major increase on the 125 million currently distributed by FareShare.
FareShare CEO George Wright described the plans as a "game changer" in the fight against food poverty and said he hoped to see all major supermarkets taking part.
"We're incredibly grateful for the support from M&S who, by providing a million meals, will help so many people struggling at this time of year," he said.
"Demand for our food has skyrocketed, and the 8,500 charities we provide food to have seen first hand how more and more families and working people have been forced to seek help. Food insecurity, which currently affects one in four people, fuels both hunger and loneliness.
"The charities we support, which include homelessness shelters, afterschool clubs and older people's lunch clubs, will be working harder than ever this winter. We're proud to be part of this partnership with M&S and 2 Sisters Food Group, helping get more food to people in need, strengthening communities across the UK."