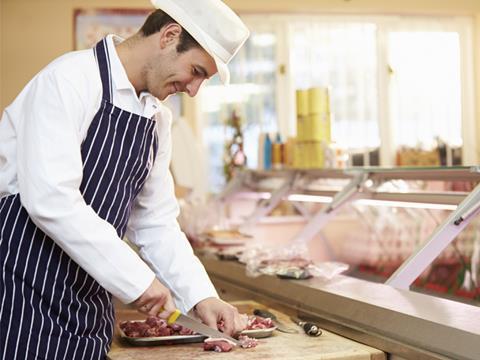 Independent butchers have continued to thrive since the horsemeat scandal and are now contributing £555m to the economy and accounting for one in nine food and drink jobs outside the mults, according to new research.
There are currently 5,240 independent butchers in England employing a total of 26,140 people, and the sector generated £2.3 billion in turnover in 2014, says a new report, prepared by TBR economic research of behalf of AHDB.
Although independent butchers struggled during the recession, sales had picked up over the past one to three years. Many butchers believed food scares like the 2013 horsemeat scandal had worked in their favour, the report found.
"The horsemeat scandal made shoppers realise they need to have a closer awareness of their supply chain and get a feel for the transparency of the supply chain, and that is what you can get from your local butcher," said Mike Richardson, AHDB independent retail sector manager.
Successful butchers had kept hold of the interest borne out of Horsegate by making the most of consumer perceptions of butcher expertise and expanding their offer to include more convenience products, the report found.
The sector had also benefited from the shift in shopper habits towards more daily, local shops and increased desire to show support for British farmers. "This all works in butchers' favour, and there is now a bright future ahead," said Richardson. He added the findings of the report were "particularly encouraging" given the sharp decline between 1990 and 2010, when nearly 10,000 butchers' shops disappeared from UK high streets.
AHDB's findings tally with the 2016 Grocery Retail Structure, which found there are 6,140 butchers' shops in the UK, up 1.2% since 2015.