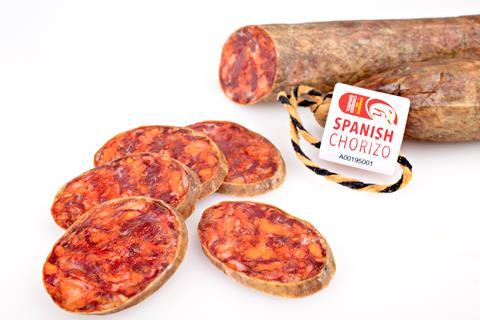 Spanish Chorizo Consortium suppliers scored a 28% year-on-year increase in volume exports to UK retailers in Q1 thanks to "consumer trust" in its label, the organisation has claimed.
According to figures supplied by the SCC, exports hit 607,500kg from January to March 2021 – up from 473,000kg in the same period last year. Overall, the UK is the consortium's biggest market for the pork product, making up 60% of its members' exports.
As well as marking a growth in its share of the chorizo export market from the 21% seen across the whole of 2020 to nearly 26%, the figures suggested the trade body was on course to exceed last year's total export volume figure of just under 2.2 million kg.
However, its director Alejandro Álvarez-Canal struck a cautious tone around forecasting.
"We expect to once again exceed two million kilogrammes exported to the UK, although Brexit and the evolution of the pandemic could affect us. For now, the outlook for 2021 is to match last year's figures," he said.
The consortium, which is made up of 22 producers and exporters that conform to standards governing appearance, texture, smell and taste, said it believed the growth in export volumes had been brought about by the strength of its Consorcio del Chorizo Español marque among consumers.
A spokeswoman said appreciation among UK shoppers of the "high-quality product" the label denotes had been bolstered by joint promotional work with the Spanish government's trade promotion body ICEX.
She added that further campaign activity was planned for 2021, taking in PR and consumer-focused recipe inspiration content in print and online, as the SCC seeks to expand occasions for the meat product beyond tapas and fish.
Further growth in exports is also anticipated thanks to expansion at three SCC members' production facilities.
Costa Food Group's charcuterie division – which is partnered with Cranswick's Continental Foods arm – has announced it will invest €20m in its facilities from 2021 to 2026.
Meanwhile, La Hoguera, based in northern Spain, has begun work on a €3.5m extension that includes 3,000 sq m of new space that will be used for producing sliced sausages and as a cleanroom. The work is set to be completed by early 2022.
Another producer, Boadas. is in the midst of constructing a new €4m production plant near Girona, which is also set to come online by the beginning of 2022.