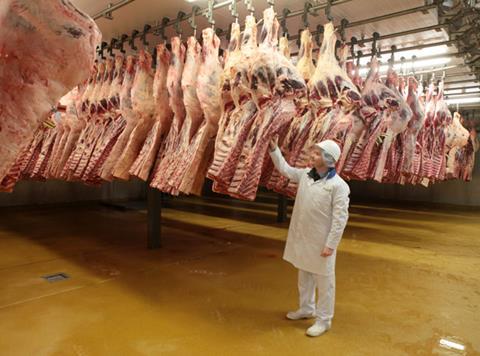 Farmgate beef prices look set to remain high in 2021 amid a tightening in supply on both sides of the Irish Sea, research by AHDB has suggested.
The GB all-prime average deadweight beef price ended 2020 some 5% higher year on year at 352.2p/kg, according to AHDB's Agri Market Outlook for 2021.
Although last spring's carcase balance crisis – caused by a surge in demand for lower value cuts such as mince by locked down shoppers – had led to some short-term volatility, prices subsequently rallied and remained elevated for the rest of 2020, said AHDB analyst Hannah Clarke.
Between the middle of April and the last week of November, the all-prime average weekly deadweight cattle price rose by 16%, from a low of 322.1p/kg to a peak of 374.8p/kg.
Tighter domestic and Irish cattle supplies contributed to the hike, with imports also down 3%. And while 2020 UK beef production rose 2%, "this was largely due to a rise in cattle slaughter, with strong demand encouraging animals forward earlier than we had predicted", Clarke said.
As a result, there were now fewer animals in the system, while dairy and suckler herds were also expected to contract by at least 1%, she added, leading AHDB to forecast a 5% fall in total UK production for 2021.
Tighter supplies could keep prices elevated for the remainder of 2021, she suggested. Data from last year had also shown that "restricted foodservice activity drives higher demand at retail, which benefited farmgate prices in 2020".
But she also cautioned economic uncertainty may lead many consumers to tighten their belts, leading many to opt for cheaper cuts.
"As we saw last year, similar behaviour caused initial problems for carcase balance and thus, prices," she added. "How, and how quickly, the country emerges from lockdown, and how the eating out market reopens, will be crucial factors to watch."