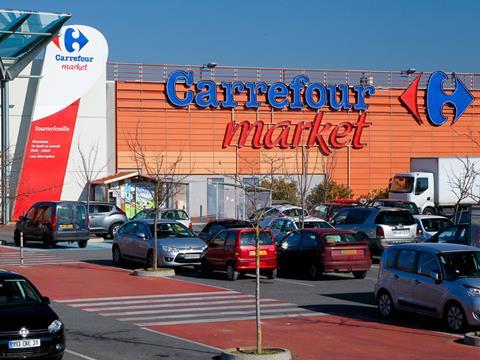 Carrefour (CA) has extended its footprint in Spain after today announcing the purchase of 36 compact hypermarkets from the Eroski Group.
The deal gains the French food retail giant a presence in 27 new cities while strengthening its position in the food segment in the country.
The acquisition, which gives it an extra 235,000 of hypermarket space, also includes 8 shopping malls and 22 gas stations adjacent to the stores.
Carrefour said the deal represents the continuation of its "multi-format, omni-channel expansion for the benefit of its clients".
Analysts at Bernstein said the deal will reignite market share growth and like for like sales growth after share price momentum has slowed in recent months.
The broker said: "Over the last 2 years, Spain has been Carrefour's biggest success story as it has turned from -6% LfL to +3% LfL [in the third quarter] and gained market share.
"Carrefour is ploughing a lone furrow in continuing to invest in Western European hypermarkets [and] it is probably getting good deals as the only buyer."
Carrefour shares were up 0.7% to €24.40 today. The shares are 8.5% down since the start of 2016 and 27% down since their year-long peak of €33.25 in April 2015.
Carrefour has been present in Spain since 1973 and now has more than 41,000 employees in the country and operates 173 hypermarkets.