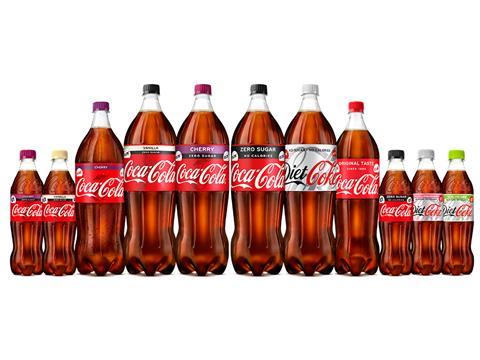 Top story
Coca-Cola European Partners (CCEP) has made a €5.2bn (£4.7bn) offer to expand its bottling empire with the acquisition of Coca-Cola Amatil.
Amatil is one of the largest bottlers and distributors of ready-to-drink non-alcohol and alcohol beverages and coffee in the Asia Pacific region, as well as the authorised bottler for Coke's brands in Australia, New Zealand, Fiji, Indonesia, Papua New Guinea and Samoa.
The proposed transaction would create a broader and more balanced footprint for CCEP while almost doubling its consumer reach, with the aim of ultimately driving sustainable and faster growth, through geographic diversification and scale, the group said.
CCEP has made a non-binding offer to acquire 69.2% of the entire existing issued share capital of Coca-Cola Amatil held by shareholders other than The Coca-Cola Company for A$12.75 a share.
It has also has entered into a non-binding agreement with The Coca-Cola Company setting out the terms to acquire Coke's 30.8% interest in Amatil, conditional upon Australian regulatory approvals, for A$9.57 a share.
The proposal gives Amatil an equity value of A$8.7bn (c.€5.2bn) and an enterprise value of A$10.8bn (€6.5bn).
CCEP chief executive Damian Gammell said: "This is a unique and tremendous opportunity to combine two of the world's best bottlers, creating a broader and more balanced geographic footprint, including one of the most attractive and populous emerging markets, doubling our consumer reach to 600 million.
"This larger platform would enable us to scale up even faster than before and solidify our position as the largest Coca-Cola bottler by revenue, further strengthening our strategic partnership with The Coca-Cola Company."
CCEP also announced in a separate trading update that it had slowed the decline in sales during the third quarter as hospitality vennues emerged from lockdowns in various countries.
Revenues in the three months to 25 September fell 3% to €3.2bn (£2.9bn), with volumes down 4%. It was a significant improvement on a 26% drop in revenues in the second quarter when volumes slumped 22% as the Covid crisis shut down bars, restaurants and cafes across the world.
The improvement in the third quarter was driven by a 6% jump in home channel volumes as shoppers stocked up on larger bottles and multipack cans. Out-of-home consumption also improved in the period, with volumes down 17.5% compared with 50% in the previous three months.
Total volumes turned positive in August, with growth of 1%, before slipping by 2% in September.
Despite the improving situation, CCEP said it was still unable to provide any guidance for full-year results given the uncertainty of the crisis and the threat of further lockdowns.
Gammell added: "We continue to demonstrate the resilience of our business and our ability to operate with agility in such a rapidly changing environment.
"I am proud of how our colleagues have continued to support our customers, consumers and communities. Our performance over the summer months was encouraging.
"Volumes significantly improved compared to the second-quarter of the year, mirroring outlet re-openings in the away from home channel, solid demand in the home channel, where we continued to take share, as well as favourable weather across most markets. While the reintroduction of restrictions and local lockdowns has resulted in continued uncertainty about the duration and impact of the pandemic, we continue to believe that the second quarter will be the most impacted."
In Great Britain, CCEP's sales fell 2% in the third quarter to €612m, compared with 6% growth in France and 3% in Germany. Although, Iberia was the hardest hit region for the group, with revenues down 16% to €739m.
The company said reduced capacity in the hospitality industry, in restaurants, bars, hotels and cafes, hurt revenues in Great Britain, but there had been a 23% jump in volumes for multipack cans and shoppers drank more at home, with Coke Zero, Dr Pepper, Lilt, Monster and Schweppes all growing volumes in the quarter.
We continue to adapt to changes in consumer behaviour by focusing on the core brands that our consumers love, leveraging and advancing our digital capabilities, and concentrating even more on the home channel, particularly in the run up to the key Christmas trading period."
Shares in the group shot up 8.5% to €35.25 this morning as markets opened.
Morning update
The Covid-19 crisis and Brexit fears continued to weigh on the FTSE 100 as another week got underway, with the index opening down 0.4% to 5,839.52pts.
Early risers this morning include McColl's Retail Group, which has shot up 12.5% to 22.5p, along with Naked Wines, up 4.1% to 494.6p, and Total Produce, up 3.5% to 105p.
Fallers so far include Greencore, down 1.9% to 98.5p, DS Smith, down 1.7% to 290.2p, and Applegreen, down 1.6% to 290.2p.
This week in the City
It's looking like a quiet week on the markets in the UK as we enter half-term. On Wednesday, bellwether retailer Next will issue a Q3 update.
Things are looking busier on the international scene. Tomorrow brings an investor update for Ocado's US partner Kroger. Also in the US, there are quarterly results from Kellogg, Kraft-Heinz and ecommerce behemoth Amazon.