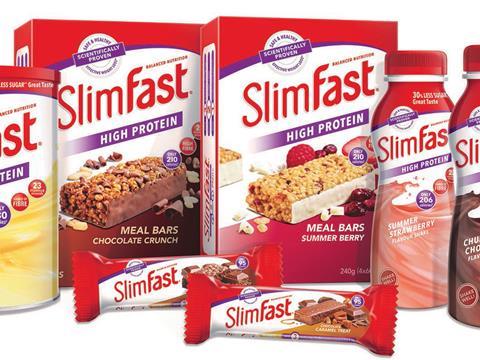 Top story
Irish food group Glanbia (GLB) has announced it has agreed to acquire weight loss nutrition brand SlimFast for US£350m (£265m).
The transaction is likely to close before the end of 2018 and sees the exit of current private equity owners Kainos Capital.
SlimFast is a leading weight management and health and wellness brand focussed on the US and UK, with "high levels of brand awareness" in the US, which is its largest market.
Also included in the Transaction are a number of nutritional supplement brands such as "Healthy Delights" and "Nu-Therapy".
In 2017 SlimFast delivered $212m net sales, adjusted EBITDA (before non-recurring costs) of $24m and, after non-recurring supply chain transition costs, a net loss before tax of $12m.
Glanbia plans to operate SlimFast within its Performance Nutrition segment.
Siobhán Talbot, group managing director of Glanbia commented: "I am pleased to announce that we have agreed to acquire SlimFast, a leading consumer brand in the $8 billion weight management nutrition market, an adjacency to the Glanbia Performance Nutrition brand portfolio.
"SlimFast is an established and enduring brand and, along with nutritional supplements brands "Healthy Delights" and "Nu-Therapy", complements our existing portfolio targeting lifestyle consumers. It plays to global consumer trends focused on convenient formats and snacking. The transaction is in line with our strategic ambition to extend the reach of our Glanbia Performance Nutrition portfolio to related consumer needs."
The transaction will be fully financed by Glanbia's available banking facilities and it is expected to be accretive to earnings per share from 2019 onwards.
Morning update
WH Smith (SMWH) has announced a rise in full-year trading profits, but headline earnings have been hit by restructuring costs related to its shrinking high street business.
Total group revenue for the year to 31 August was up 2% at £1.26bn with group like-for-like revenues flat compared to its previous year.
Its travel-focussed business, which is the largest part of the group in both revenue and profit, grew revenues by 8% compared to last year and like-for-like revenue by 3%.
High street total revenues were down 3% with LFL revenues also down 3% compared to the prior year.
Group profit from trading operations increased 3% on the prior year to £163m, with headline group profit before tax increasing by £5m to £145m, up 4%.
However, group profit before tax decreased by 4% to £134m, reflecting one-off costs – primarily from a business review of its high street operations.
As a result of this review, WH Smith will wind down non-core trial initiatives including Cardmarket and WHSmith Local; restructure some operational activities; and close around six high street stores, particularly those impacted by onerous leases.
WH Smith said in profit terms the high street had "a good performance" despite the well documented challenges of the UK high street. Trading profit fell from £62m to £60m, but is still the third highest profit delivered by high street over the last 15 years
Travel-related trading profit increased by 7% to £103m which includes £11m from its fast growing international business.
Travel now represents 63% of group profit from trading operations.
WH Smith continued to invest in the division, opening 20 new units in the UK during the year, taking us to a total of 581 units in the UK, and a further 58 international units to take the total to 286.
CEO Stephen Clarke commented: "While there is some uncertainty in the economic environment, we are pleased with the start to the new year in both businesses, and will continue to focus on profitable growth, cash generation and new opportunities to profitably invest for the future. We are well positioned for the current year and beyond."
"We had a good year in High Street despite the well documented challenges of the UK high street. During an encouraging second half, the business traded well and we quickly identified the latest trend in the market, becoming a one-stop-shop for all slime related products. Despite this good performance, we are not ignoring the broader challenges on the UK high street and, during the second half, we conducted a business review to ensure our High Street business is fit for purpose now and for the future."
Elsewhere, Belarus' largest grocery retailer Eurotorg has confirmed plans to list on the London Stock Exchange in an IPO potentially worth upwards of US£300m.
The company intends to use the net proceeds to partially repay its foreign-currency debt, in line with its strategic objective of reducing its foreign-currency debt exposure.
Andrei Zubkou, CEO of Eurotorg, said: "Today's announcement of our intention to proceed to IPO represents another milestone in the history of Eurotorg. In addition, the appointments we are announcing today represent a significant step in strengthening our corporate governance.
"The three individuals who have agreed to join the board as Independent non-executive Directors have outstanding international credentials as directors and senior executives, as well as profound knowledge of the retail industry and of growing global tech and digital businesses, as we continue to develop our market-leading profitable e-commerce operations. We look forward to benefiting from their experience as we seek to create value for all our stakeholders."
On the markets this morning, the FTSE 100 has slumped a further 1.4% back to 7,042.9pts as global markets suffer.
WH Smith has plunged 7.9% this morning back to 1,873p after its weaker than expected full year profit numbers this morning.
Other heavy fallers include Hotel Chocolat (HOTC), down 6.1% to 263p, Hilton Food Group (HFG), down 3.9% to 942p and Premier Foods (PFD), down 3.3% to 40.6p.
The day's few risers so far include FeverTree (FEVR), back up 1.1% after recent falls to 2,650p and Glanbia (GLB) after this morning's announcement, up 0.7% to €14.33.
Yesterday in the City
The FTSE 100 sank 1.3% to 7,145.7pts to another new six-month low as international stocks fell and the pound strengthened on hopes of a positive Brexit deal, hitting the FTSE's internationally focussed stocks.
FTSE 100 consumer stocks were hit by the rising pound, with fallers including Compass Group (CPG), down 3.7% to 1,543p, Coca-Cola HBC (CCH), down 3.5% to 2,294p, Diageo (DGE), down 3.1% to 2,600 and Reckitt Benckiser (RB), down 1.2% to 6,591p.
Other fallers included SSP Group (SSPG), down 2.7% to 659.5p, Greencore (GNC), down 2.5% to 195.5p, Cranswick (CWK), down 2.3% to 3,018p, Ocado (OCDO), down 2% to and Morrisons (MRW), down 1.4% to 246.7p.
There was also a big 9.2% share price fall at McColl's (MCLS) back to 123.5p, while Hotel Chocolat (HOTC), fell 6.7% to 280p and PureCircle (PURE) dropped 6.2% to 286p.
The day's risers were more UK-focussed businesses, with B&M European Value Retail (BME) up 3% to 392.7p, Dairy Crest (DCG), up 3% to 463.4p, Marks & Spencer (MKS), up 3% to 295.8p and Devro (DVO), up 2% to 208.5p.
Greggs (GRG) continued its strong share price run after Tuesday's better than expected third quarter results, rising a further 2.7% to 1,080p.