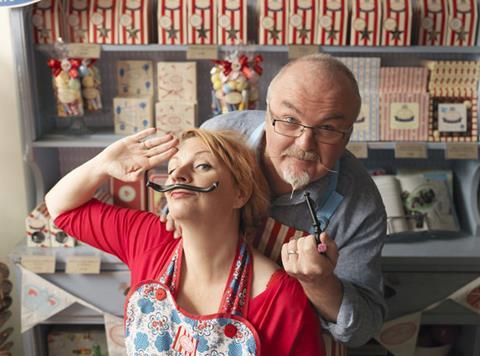 Hope & Greenwood, the retro confectionery brand that featured in a four-part BBC series and was backed by serial investor Luke Johnson, has been rescued from administration.
Honeycomb Project Management, which produces the upmarket Monty Bojangles range, has acquired the intellectual property from administrators at Geoffrey Martin & Co to keep the brand alive.
However, Kitty Hope and Mark Greenwood, who founded the business in 2004 and starred in the BBC programme Sweets Made Simple in August 2014, are not part of the deal but are in talks with the new owner about future involvement.
The pair, who created a range of sweets based on retro favourites such as lemon sherbets, cola bottles, gobstoppers and flying saucers, had two shops in London and supplied John Lewis and Selfridges, Waitrose and Ocado, as well as exporting to 35 countries.
Luke Johnson of Risk Capital Partners, which has The Bread Factory and Patisserie Valerie in its portfolio, bought a stake in Hope & Greenwood in early 2013 but Companies House records show he ceased to be a director, along with partner Joe Tager, on 23 July 2015.
Geoffrey Martin & Co was appointed as administrator of The Curious Cook Ltd, the company's registered name, on 17 August.
The administrator declined to comment on the reasons behind Hope & Greenwood's collapse. Luke Johnson was not available for comment.
The acquisition of the IP and brand by Honeycomb included 35 Hope & Greenwood stores in Japan, operated by franchise partners PlazaStyle, but not the two London stores in Covent Garden and Dulwich, which have now closed.
Honeycomb MD Andrew Newlands said he saw an opportunity to save the brand and build on it.
"We've been working around the clock to recover from the position we found the listings in and we have been successful in doing so," he added. "Much of the brand's distribution and forward position has been preserved. From the perspective of the consumer and the customers, nothing has changed. We are replicating everything they were doing."
Hope & Greenwood's range was produced by a co-manufacturing partner, which is continuing to work with Honeycomb.
Feedback from retail customers had been "uniformly supportive and positive" thanks to the goodwill the brand has in the marketplace, Newlands said. And the brand gave Honeycomb access to new parts of the market along with significant distribution benefits from the IP as well as licensing, franchising and exporting opportunities, he added.
As well as owning the Monty Bojangles brand, Honeycomb also makes Robinsons, Fruit Shoot and J20 sweets under licence from Britvic and supplies the major multiples in the UK with private-label chocolate imported from European confectionery companies.