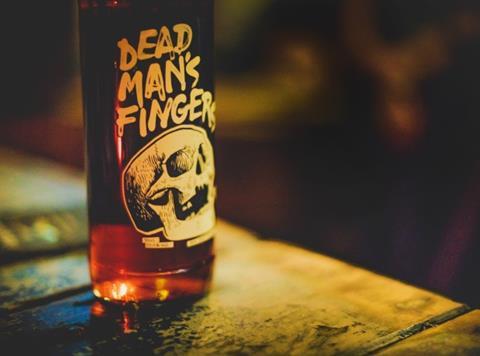 Halewood Wines & Spirits has bolstered its posh spirits range with trendy rum brand Dead Man's Fingers.
The Lambrini and Whitley Neill owner announced this morning it had bought the Cornish rum brand outright for an undisclosed sum, making it the fourth rum in the distributor's portfolio.
The "inspired blend" of Caribbean rums with "exceptionally smooth taste", was "as good as any established or contemporary spiced rum out there", said its founder Neythan Hayes. It has an abv of 37.5%.
"While we have achieved success to date through a handful of on and off-trade listings, Halewood's distribution structure will drive growth and allow more people to enjoy it as much as we do," he added.
Rum has been hotly tipped as the next major spirits trend. According to WSTA figures, sales of rum grew c38% over the past five years, on volumes up 18%, driven in part by the rise of cocktail culture, also credited with boosting the runaway success of craft gin.
"The modern tiki cocktail trend is flourishing in the global bar scene and consumers are experimenting with higher-quality rums", said Halewood.
The acquisition marks a further move into premium spirits for Halewood, which has credited the category as a major factor in the business' turnaround over the past two years - sales were up £2.0m to £216m for the year ending 1 July 2017, with operating profits up £2.6m to £4.8m over the same period. Two years prior, it had just posted an operating loss of £8.2m.
Halewood's premium push was "paying huge dividends", said group chief executive Stewart Hainsworth. "We place great importance on the authenticity and quality of the brands."
It has already unveiled a slew of NPD this year, including the return of limited-edition Liverpool Rose Petal gin, two new Whitley Neill variants, and the relaunch of the historic John Crabbie whisky brand with 30-year old and eight-year-old single malts.