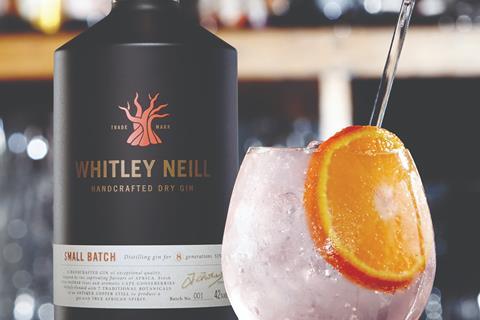 Halewood Wines & Spirits has ditched its plans to sell the business, The Grocer has learnt.
National news reports in September claimed the Whitley Neill owner was close to finalising a deal with Lloyds Development Capital, the banking arm of Lloyds Bank, and an unnamed foreign rival.
But after posting stellar results for the latest financial year, owner Judy Halewood has decided the business is best kept in the family.
Confirming the decision, Halewood marketing director James Stocker told The Grocer: "Because the company is doing so well and we had such a storming year, the family have re-evaluated."
Its focus would be "on building its gin portfolio and wants to develop a full dark spirits portfolio", he added.
Halewood tripled its operating profits for the year ending 30 June 2018, which surged almost £10m to £14.3m on sales up £48.4m to £265.1m, three years into an all-encompassing turnaround orchestrated by CEO Stewart Hainsworth. This time three years ago Halewood was over £8m into the red and sales were down almost £40m.
Halewood's turnaround has been built on shifting its focus away from underperforming brands such as Lambrini and building a vast portfolio of posh spirits. Whitley Neill has been particularly successful, racking up millions of pounds in sales for its range of upmarket gins – its Rhubarb & Ginger flavour grew by a whopping £18m last year [Nielsen 52 w/e 8 September 2018], breaking into the UK's top 50 spirits brands after just over a year on the market.
Halewood this month kicked off a major investment plan in Australia, where it snapped up a majority stake in New South Wales distillery Ironbark, with an eye to bringing the brand to UK and US customers as well as boosting its presence in the Australian domestic market


Daniel is The Grocer's food and drink editor and is responsible for our product coverage across all fmcg categories.

Daniel has written about food and drink for the majority of his career: prior to joining The Grocer in 2017, he covered food and drink news on pub industry title The Morning Advertiser, and wrote features for VICE magazine.

Follow Daniel on Twitter: @WoolfsonExists