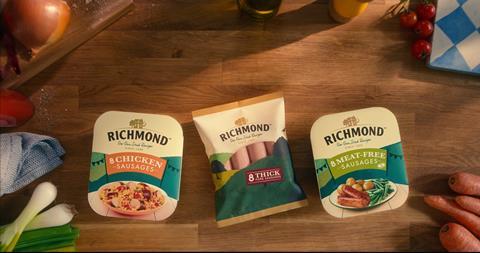 Kerry Group is considering selling off its consumer foods division, which includes brands such as Richmond sausages and Dairygold, according to reports today.
Bloomberg has reported Kerry is "considering strategic options" for the business to potentially generate cash for acquisitions to build its core nutrition and ingredients portfolios.
It is suggested Kerry could pursue a sale or spin-off of all of the business next year or sell off individual assets.
Kerry specialises in chilled meat and dairy products, including the Dairygold, Richmond and Fridge Raiders brands – it is reported it may prioritise the sale of non-dairy assets such as Rollover hot dogs and Naked Glory meat substitutes.
The report suggests the consumer foods business as a whole may be "valued in the billions of euros".
Analysts at Jefferies noted valuation would be considerably higher than its own €1bn base valuation of the consumer foods business.
"A sale of the consumer foods business could be one catalyst to a re-rating for Kerry, largely driven by the margin accretion that such a transaction would create," the broker said.
However, it added a lack of a suitable buyer could hinder a wholesale sell-off of the division, with "obvious trade buyers not appearing to have balance sheet flexibility". It suggested a large private equity would be the only remaining plausible option.
Kerry told Bloomberg it does not comment on rumours or speculation.
Kerry shares were up 3.3% on the speculation to €121.50.