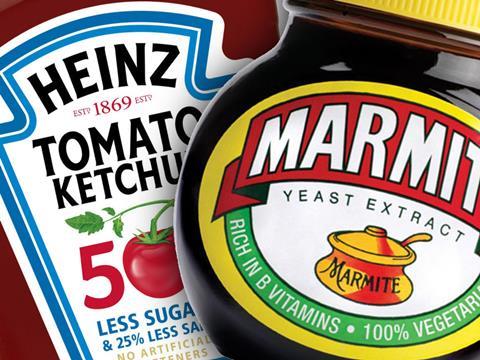 After the surprise of the Tesco/Booker £3.7bn merger on a Friday at the end of January, another bolt from the blue today as Kraft Heinz sent shockwaves through the European consumer market as it set its sights on a combination with Unilever.
Political instability in the UK and US, it seems, has done nothing to dampen M&A activity in 2017.
Investors rushed to buy Unilever (ULVR) shares as speculation mounted about a potential deal, sending the stock soaring 15% to a record high of £38.23.
However, Kraft Heinz's $143bn (£115bn) offer was dismissed out of hand by Unilever in no-nonsense statement, which said the $50 (£40) a share offer (an 18% premium) "fundamentally undervalues" the company.
The US group has until 5pm on 17 March to 'put up or shut up' under takeover rules.
But what happens now? How likely is Kraft Heinz to up its bid price? Is it really a play for Unilever's food business? Will CEO Paul Polman allow the company to slip from his control? What of competition issues? And what drove Kraft Heinz to consider the merger in the first place?
Finding growth in a challenging world
Unilever and Kraft Heinz are certainly not alone in the global consumer goods space in struggling to find growth in a challenging world. The giants of fmcg have been at the mercy of fast-changing consumer tastes, no longer satisfied with processed snacks and meals and constantly on the lookout for healthier, exciting innovations.
That's to say nothing of major currency volatility, soaring commodity prices, deflation in European supermarkets, rampant inflation in important Latin America markets.
Nestlé's disappointing results yesterday brought to end a bleak reporting season for the multinationals. Average organic growth across Nestlé, Unilever, Danone and Reckitt Benckiser came in at a mere 2.1%. The Nestlé model calls for at least 5%-6% annually.
The merger approach emerged just a day after Kraft Heinz shares collapsed almost 5% to $86.86 – the biggest one day fall since the 2015 merger with Heinz was announced – after it reported a 3.7% fall in fourth quarter sales to $6.9bn (£5.5bn) and a plan to slash costs further.
"Kraft Heinz's approach demonstrates the pressure on brand owners to consolidate in the face of international pressure on margins and constraints to organic growth opportunities," says Paul Hickman, analyst at Edison Investment Research. "With about 70% of revenue from Europe and Asia, Unilever's markets are complimentary to Kraft Heinz, which has around 70% in the US. Inevitably, Kraft Heinz will not have led with its best offer and a protracted negotiation probably lies ahead."
Liberum analyst Robert Waldschmidt adds Kraft Heinz will be eyeing Unilever's significant pipeline into emerging markets, where the Marmite owner generate almost 60% of sales.
"It has a significant long-term established route to market that Kraft Heinz could put a lot through," he says. "It is a combination with significant global power brands. They would gain substantial brands, substantial route to market and substantial street cred in terms of Unilever's sustainable living programme."
Consumer shares rally
The approach by Kraft Heinz has not only buoyed Unilever share, it has also given the consumer market a shot in the arm.
Danone is back up 4% to €61.53, Nestle has bounced back 1.9% to CHF 73.80 and Reckitt Benckiser has jumped 3.2% to 7,123p.
So is there scope for Kraft Heinz to come back with a better offer?
Waldschmidt says the bid is lower than Unilever shareholders would want, but Kraft Heinz could raise its price through selective disposals.
And Neil Shah, director of research at Edison Investment Research, notes that the surge in the value of the dollar versus the pound since Brexit gives Kraft Heinz extra firepower. "Today's 10% rise in Unilever's share price means this is cash neutral for a US purchaser compared with if it had approached seven months ago," he says. "Unilever's own share price is also down about 15% from its all-time highs since the UK referendum vote last summer, on concerns about its pace of global sales growth, so the timing of Kraft Heinz's bid is opportune."
Some analysts have questioned whether the initial offer was actually a clever play for Unilever's food business rather than the group as a whole.
Raphael Moreau, food analyst at Euromonitor International, argues: "Although there was little incentive for Unilever to accept this initial merger offer, Kraft Heinz and 3G Capital's willingness to pursue a deal could ultimately encourage Unilever to seek a deal to offload some of its food brands, to which Kraft Heinz would seek to apply aggressive cost reductions."
Kraft Heinz is a 100% food and drink group, with a majority of revenues in the US, compared with Unilever's diversified portfolio of food and household brands. The Unilever food business has sales of €12.5bn versus €52.7bn as a whole.
Martin Deboo of Jefferies says a smaller deal is a more logical and financeable, with limited competition issues.
A deal would bring together some of the biggest brands in the world, including Marmite, Heinz Ketchup, Hellmann mayonnaise, Ben & Jerries, Knorr, Oscar Mayer and Kraft Macaroni and Cheese.
Moreau sees synergies in sauces and soups but thinks a combination of Heinz and Hellmann in mayonnaise could struggle to get the green light from regulators.
"Its search for a mega-merger could see 3G Capital settle for a smaller deal under which group synergies would be more achievable," he says.
How will Polman react?
Unilever CEO Paul Polman is likely to fight tooth and nail to block any merger of the entire group, but if the deal doesn't happen the consumer giant will be under serious pressure to act, whether that means a break up of the company or a sale of the spreads business for example.
"Shareholders won't take lightly to a business as usual case after having the potential for a combination," Waldschmidt says.
He adds that if Unilever keeps up its resistance that pressure will likely build in the US, with Kraft Heinz potentially moving its target to a reunification with Mondelez or a takeover of the likes of Campbell's.
The ball is now in Kraft Heinz's court but the pursuit of Unilever is looking a long way from coming to an end.