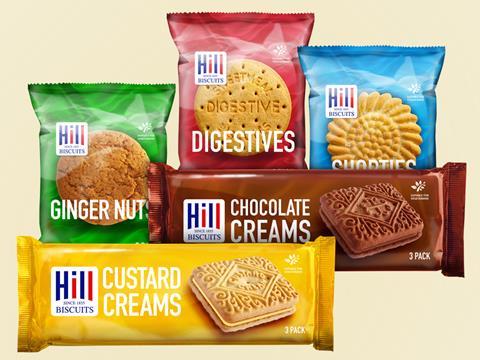 Private equity firm LDC has backed the management buyout of custard creams and bourbons maker Hill Biscuits, in a deal valued at £10m to £15m, The Grocer can reveal.
It comes as LDC is attempting to seal the £100m-plus acquisition of pork pie supplier Addo Food Group to bolster its stable of food and consumer businesses.
Following the transaction, Hill plans to kick-start a multimillion-pound capital investment programme to expand its production capacity and develop new products in a bid to take advantage of rising demand from current and new customers.
Manchester-headquartered Hill, which can trace it roots back more than 150 years, said it would also seek strategic acquisitions to build further scale and diversity, as well accelerating growth in overseas markets.
MD Steven Wetherby led the buyout, providing an exit for the Bennett family, which originally acquired the business out of confectionary manufacturer Rowntree's in 1980.
The deal price is undisclosed but The Grocer understands it values the business at between £10m and £15m, according to a dealmaker source.
"Partnering with LDC will enable us to drive significant investment into the business for the benefit of our customers, adding greater production capacity and innovative new ranges, whilst staying focused on our core offering of quality, value for money products," Wetherby said.
"LDC's experience and track record in the sector made them an ideal fit for us. They also quickly understood our ambition for the business and shared our passion for growth. This unlocks a whole new future for a business with a fantastic history."
Originally founded as a small shop in Manchester by John and Sarah Hill in 1855, the business today generates sales of £20m and produces more than 30 million biscuits each week for the retail and foodservice markets.
The range of digestives, ginger nuts, custard creams, bourbons, malted milks and gingerbread men are sold under the Hill brand, as well as retailer private label, with customers including the biggest discount retailers in the UK and mainland Europe.
Hill was taken over by Fruit Pastilles maker Rowntree's in 1969 before an MBO in 1980.
LDC's investment – the third from the North West team in as many months – was led by Simon Braham, John Clarke and Ged Gould.
"Hill is a classic example of a business with latent potential," added LDC investment director Simon Braham. "The shareholders have built a great business over the years and the current management team has an ambitious vision for forward growth.
"We're excited to become part of the next chapter for Hill in developing its scale, strength and success both at home and overseas."
LDC senior director Ged Gould said the firm's recent investment activity was a barometer of the health and wellbeing of the North West economy. "There are businesses just like Hill across the North West with exciting prospects ahead. We're keen to get the message to those management teams that LDC has the appetite and capital to support their expansion."
LDC is currently thrashing out the details of a potential investment in Addo Food Group, as revealed by The Grocer last week. The private equity arm of Lloyds Banking Group currently has Seabrook Crisps in its portfolio and recently exited Ministry of Cake with a sale to Mademoiselle Desserts. One of its biggest successes in food and drink came from its investment in Fever-Tree thanks to the £154m flotation of the posh mixer brand in 2014.
Banking facilities for the Hill deal were provided by Yorkshire Bank and banking legal advice provided by Addleshaw Goddard. The sellers were advised by Zeus and DWF, management by Pannone and LDC by Mazars and Pinsent Masons.