With hundreds of its shops closing amid CEO Steve Rowe's plan to make M&S a "digital-first" business, he badly needed to take M&S Food online. Finally, this week, it agreed a much-anticipated deal with Ocado.
But is it the right deal? Here's what we know.
The deal
M&S is paying £750m for half of Ocado's UK retail businesses in a new 50/50 joint venture, valued at £1.5bn. The deal will mean the end of Ocado's existing supply relationship with Waitrose, with 4,500 of its products replaced by similar lines from M&S on a 'switchover date' in September 2020.

The joint venture will pay £50m a year to Ocado Solutions - the part of the Ocado Group that licenses its automated fulfilment centre technology to retailers internationally to pay for the "technology and mechanical handling system solution, so the processing of orders, plus the services we provide - the management fees for running the operation - plus some recovery of historic assets that we've invested in the business which are now being used exclusively by the joint venture," according to Ocado CFO Duncan Tatton-Brown.

Ocado CEO Tim Steiner said it was "proportionate" to the fees paid to Ocado Solutions by other retail partners.

Ocado benefits in three ways, according to Bruno Monteyne, senior analyst at Bernstein: monetising its retail business, signing up a massive new partner in M&S and gaining cash to fund more than eight CFCs which it is already committed to developing for existing partners over 12 years, including a fifth in the UK, as well as its new Ocado Zoom micro warehouses.

"This takes us to the next level in terms of strategic development," said Steiner as the deal was announced on Wednesday.

"The jv will remain the live testbed for Ocado Solutions and the cash received will allow for faster innovation and development of industry-leading technologies. It also represents a further endorsement from another leading global retailer."

As for M&S, it "accelerates our food strategy by taking our food online in an immediately profitable, sustainable and scalable way," said Rowe. "This is a win-win transaction."
The joint venture also leaves Ocado free to continue its fulfilment contract with Morrisons in the UK.
In the money
Based on 2018 results, the joint venture would have had an EBITDA of £34.2m 'before fee savings associated with the replacement of Waitrose with M&S as a sourcing partner,' according to Ocado Group's written announcement.

Not everyone was impressed by M&S paying £750m for half a business that made EBITDA of £34.2m the previous year. M&S's share price fell 12.5% on the day the deal was announced; Ocado's rose 2.9%.

"It's no wonder its share price took a whack," says Patrick O'Brien, UK retail research director for GlobalData. "But M&S is under pressure to reinvent itself somehow, lest it be considered a retailer in perpetual, inevitable decline due to the shift to online."

The falling share price may also have been influenced by M&S simultaneously announcing a reduction in the dividend to 7.1p per share, representing a 40% cut, as well as plans to raise £600m via a rights issue. It was necessary to find "the balance between investment and shareholder return," said M&S CFO Humphrey Singer.
"M&S is under pressure to reinvent itself somehow"
Rowe denied the price paid smacked of desperation. "The synergies for M&S are substantial," he said. "We're talking about more than £70m worth of synergies through efficiencies in buying, harmonisation of terms, data sharing etc."

It was a "fundamental part of our transformation plan to be truly digital-first, with a third of our business online," he added. M&S's enthusiasm does not appear to have been dampened by the fire that destroyed Ocado's Andover CFC, as it's received reassurances that there is not an issue with the technology, with the cause of the fire disclosed to M&S and other key customers under a DNA agreement. "It's a minor setback in the grand scheme of things," added Rowe.
Basket size? What basket size?
Only last month, at the M&S Christmas trading update on 10 January, Rowe had said the business was not ready for a full-scale online launch.

"Our basket size is not appropriate," he said at the time. "Forty-one per cent of our customers are shopping for today/tonight and that doesn't really work in an online proposition."

The average M&S basket value is just £13, according to Emma Shipp, partner at Hewitsons, while Steiner puts Ocado's at £100-£110.

Ocado's new one-hour service, called Zoom, is aimed at sub-£60 baskets and made its first deliveries from Chiswick, London this week. But the joint venture is much more relying on customers combining their small basket of M&S products with the much bigger one of Ocado's, which Steiner expects to remain unchanged in size.

Rowe said the jv overcame the reservations he expressed in January and represented M&S's only possible route to an online launch.

"One of the reasons our basket size has been smaller traditionally is because our customers can't do a full shop with M&S in the way they can with Ocado," he said.

He added that Ocado products could also be listed in M&S in-store ranges in due course.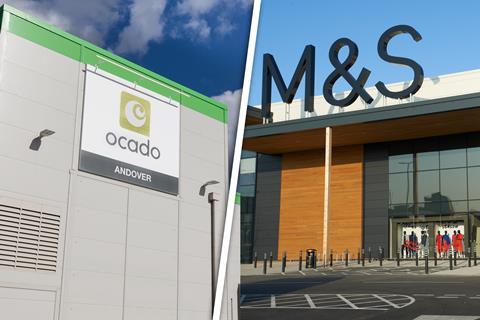 The swap
But if piggybacking on Ocado's big basket is a challenge, the other, potentially more dangerous one, for both partners, could lie in customers' willingness to accept M&S's products instead of Waitrose's.

Waitrose lines represent about 10% of Ocado's full range, but make up a quarter of all sales by volume, and 35% (or £550m) of total sales are own label, of which "10% is Ocado own label and 25% is Waitrose own label," said Steiner.

"Going forward we accept that the 35% that was in the own-label category will be some mix of M&S and Ocado-branded products, same as today."

This would happen because Ocado customers were "unbelievably loyal" he said. "Customers have always got opportunities to go elsewhere but we've built up hundreds of thousands of customers that shop with us every week."

Again, not everyone is convinced.

"Those that want an online food service either shop at Ocado already or a competitor," says O'Brien, adding that the deal "may have overestimated the lure of M&S products".

Rowe claimed M&S was in fact 4% cheaper than Waitrose on a basket of 3,500 "comparable" items, so customers would get a "fantastic deal". He said M&S prices could fall further still as a result of the joint venture's synergies.

But the performance of the venture will establish more than just how Ocado customers feel about M&S, according to Fraser McKevitt, head of retail and consumer insight at Kantar Worldpanel.

"Ocado's decision to partner with M&S is going to reveal a lot about the e-commerce retailer's existing customer base," he says. Namely, "how many Ocado shoppers are currently there for the Waitrose products and how many for the delivery service?"

This will be a key test of the jv. Should Steiner prove to have overestimated customer loyalty, it's not just a quarter of Waitrose sales that are at risk, but all those customers who use the site because Waitrose products are there in the first place.

Steve is deputy news editor at The Grocer.

He's responsible for covering online grocery and the discounters, and for editing The Grocer's analysis features. He's an experienced journalist who has contributed to a range of national newspapers including The Mail on Sunday.

Follow Steve on Twitter: @Steve_Farrell_