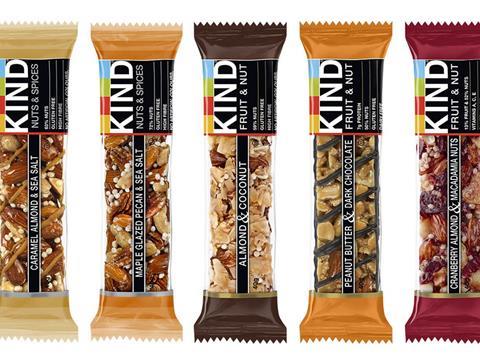 Mars has invested in a minority stake in global snack bars manufacturer Kind as it seeks to boost its global healthy eating credentials.
The confectionary, pet car and food giant will partner with Kind to grow its product offerings and business on a global scale.
Mars said the deal provides it with a "pioneering and trusted brand to anchor a newly formed global health and wellness platform", while Mars will provide Kind with its international reach to expand into new markets.
Kind will continue to operate independently, led by its majority stakeholders, founder Daniel Lubetzky and the Kind team, with its existing headquarters in New York
Terms of the deal were undisclosed, but reports suggest the deal values Kind at over US$4bn.
Kind, which was established in 2004 and received private equity investment from VMG Partners in 2008, has listings for its healthy snack and granola bars at Tesco, Sainsbury's, Waitrose and Ocado in the UK.
CEO and president of Mars Grant Reid said: "This is a partnership built on mutual admiration and a shared vision for growth. We believe there is tremendous opportunity to build on the success of Kind's product portfolio in new markets. As we continue to expand our business and broaden our portfolio to address evolving consumer needs, we're delighted to partner with a respected leader in the health & wellness space."
Daniel Lubetzky, founder and CEO of Kind, added: "When we introduced our first whole nut & fruit bar in 2004, we set out on an ambitious mission to do things differently and challenge false compromises by offering snacks that were healthy and tasty as well as wholesome and convenient.
"We're proud to partner with Mars, a family-owned, principles-driven company with a proven track record of holding a long-term view, and look forward to working with them to make this a better world for future generations."
As part of the deal Lubetzky plans to donate $25m to The Kind Foundation, a separate philanthropic entity that aims to "foster Kinder and more empathetic communities".
Reuters reported that Kind had hired investment banks to advise on a minority stake sale in July, with Kellogg's, General Mills and Campbell Soup linked to a possible deal in addition to Mars.
In July Mars Chocolate made a move into healthier snacking with its first new UK brand in two decades, launching Goodness Knows - a 34g fruit and nut bar with rolled oats and a dark chocolate base.