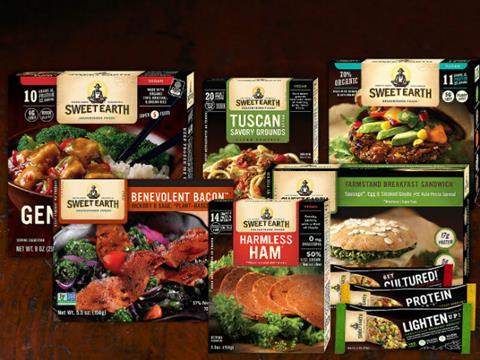 Nestlé is the latest global fmcg giant to snap up a plant-based food business as it hope to re-energise flagging sales by tapping booming consumer demand for vegetarian and vegan products.
The US division of the Swiss group has agreed to acquire California-headquarter manufacturer Sweet Earth for an undisclosed sum.
The acquisition gives Nestlé immediate entry into the plant-based foods segment, which is growing by double digits and expected to become a $5bn market by 2020, the company said.
Nestlé added that one of its strategic priorities was to build out its portfolio of vegetarian and flexitarian choices, in line with modern health trends.
It follows similar moves by Mars, which bought all-natural Indian and Asian food brand Tasty Bite in August, and Danone, which acquired WhiteWave in a $12.5bn deal last year.
"In the United States, we're experiencing a consumer shift toward plant-based proteins," said Paul Grimwood, Nestlé USA chairman and CEO.
"In fact, as many as 50% of consumers now are seeking more plant-based foods in their diet and 40% are open to reducing their traditional meat consumption. One of Nestlé's strategic priorities is to build out our portfolio of vegetarian and flexitarian choices in line with modern health trends. With unique and nutritious food for all times of the day, Sweet Earth gives Nestlé a leading position in this emerging space."
Launched in 2011 by co-founders Kelly and Brian Swette, Sweet Earth's frozen meals, burritos, breakfast sandwiches and chilled plant-based burgers and proteins are sold in more than 10,000 stores, including Whole Foods, Target, Kroger, Walmart and independent natural grocers.
Sweet Earth produces its 48 product lines in a 40,000 sq ft facility at its Moss Landing headquarters.
Nestlé already offers a range of vegetarian protein-based products in some European markets with its Garden Gourmet range.
The Sweet Earth deal follows Nestlé taking an equity stake in Freshly, a direct-to-consumer delivery service, in June.