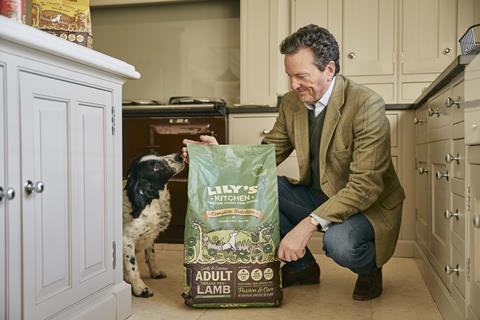 Premium petfood brand Lily's Kitchen has been acquired by Nestlé Purina with the aim of further boosting its global growth.
Nestlé has bought Lily's from private equity firm L Catterton for an undisclosed sum.
The company will continue to operate out of its offices in London as a standalone entity led by Lily's Kitchen's CEO, David Milner, and the existing management team.
Established 12 years ago in founder Henrietta Morrison's kitchen in London, Lily's Kitchen has become an £85m retail brand offering its natural recipes for dogs and cats across 6,000 stores in 30 countries.
Lily's said its revenues grew 30% last year, while its last filed accounts at Companies House show revenues of £31m.
In a statement, the companies said Nestlé Purina will help to build upon the brand's momentum by "further increasing Lily's Kitchen's brand awareness and supporting the continued expansion of its global footprint to reach more pet parents".
Founder Henrietta Morrison commented: "I created Lily's Kitchen in the belief our pets deserved better, more natural food that would make them healthier. I was inspired to do this by my own dog, Lily, who was ill and is happily now nearly 17 years old."
"I'm proud we have been able to bring the business this far and by working with Purina we will accelerate Lily's Kitchen, becoming truly global so that pet owners worldwide can have access to really healthy, natural petfood. I have always believed passionately in growing the business by doing the right thing by our people, our consumers and the planet.
"We have created a brand that people and their pets really love. I'm so proud of what we have achieved and know the brand will be taken good care of in its next chapter and beyond."
CEO David Milner added: "From the ingredients we use in our recipes, to the relationships we have built with our partners, retailers and consumers, our company remains committed to this award-winning formula for our loyal customers around the world. Our vision, purpose and values will always be at the heart of who we are and what we do."
Lily's added that its employees, both junior and senior, who own a stake in the company "will also be able to share the success".
Calum Macrae, regional director, northern region for Nestlé Purina, commented: "Lily's Kitchen has done a brilliant and unique job of creating a wonderful brand with its ethical approach to business. We are very excited to help bring the brand to the next level and to continue to make a positive impact.
"We are proud to have partnered with Lily's Kitchen over the past four-and-a-half years to grow the business and provide more pets and pet parents access to natural and wholesome petfood of the highest quality," said Michael Farello, managing partner, L Catterton Growth Fund. "We are excited to watch the company continue on its exciting trajectory."
The sales process was handled by corporate finance house Houlihan Lokey.
The Grocer reported in January that the sales process for Lily's Kitchen was one of a raft of premium petfood deals set to come to market in 2020.
However, The Grocer reported last week that one of these expected deals – the sale of MPM Products – has been shelved due to the impact of coronavirus.