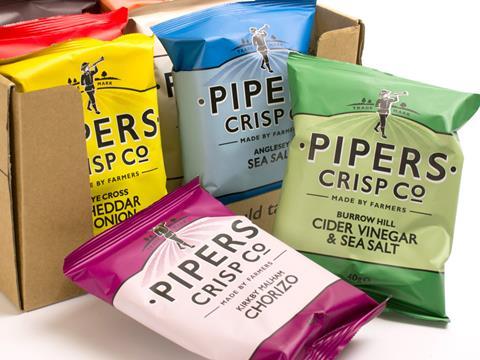 Walkers owner PepsiCo has moved to buy premium crisps brand Pipers Crisp Co for an undisclosed sum.
The news today (5 November) comes a year after The Grocer revealed that the fast-growing Pipers was actively considering a sale.
The Lincolnshire-based crisps maker would complement PepsiCo's existing savoury snacks portfolio, said the US fmcg giant.
Pipers was founded in 2004, and has so far eschewed supermarkets in favour of independent retailers and the foodservice industry in the UK and almost 40 other countries. In its most recently reported financial year, to 31 January 2018, the business's sales reached £11.4m – up 16.3% on the previous 12 months,
PepsiCo said it planned to accelerate the growth of the Pipers business in the UK and continue to develop the export of its gourmet products.
"Pipers shares our uncompromising commitment to delivering on taste and quality and we've long admired their entrepreneurial spirit," said Ian Ellington, general manager of PepsiCo UK. "The Pipers' brand has a strong proposition within the market, with stand-out taste, flavours and appeal."
Over the past 14 years, Pipers had "developed innovative products to suit evolving tastes while establishing a strong foothold in the market" said its MD, James McKinney.
"PepsiCo's commitment to accelerating the growth of the Pipers brand means more people will be able to enjoy the unique, award-winning flavour of Pipers crisps."
The acquisition is subject to approval by the Competition & Markets Authority, which is expected to be concluded early in 2019.
Last November, Pipers began eyeing up potential acquisition targets in the UK and overseas after hiring advisors to conduct a strategic review of options, including a possible future sale. The brand tasked corporate finance boutique Spayne Lindsay with coming up with a plan to realise the potential value of the business in preparation for an eventual sale.