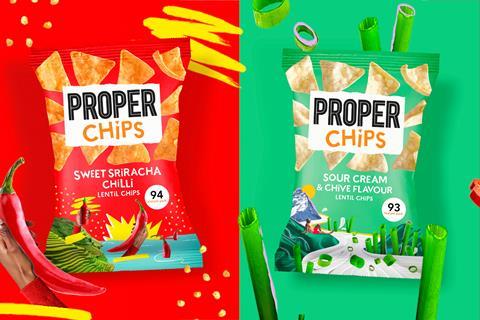 PE firm Exponent has grabbed a majority stake in snack maker Proper to build a powerhouse competitor in the better-for-you snacking category.
A new company to combine Proper with its Eat Real brand will be created under a new joint CEO, The Grocer can reveal.
The deal, for an undisclosed price, is expected to complete in late February, with Chris Schulze-Melander, current CEO of Ecover maker People Against Dirty, leading the new company from the beginning of March.
Mike Hedges, former Tyrrells MD who joined Proper as CEO in 2018, will oversee the transition until the summer.
Propercorn, founded in 2011 by Grocer Top New Talent alumni Cassandra Stavrou and Ryan Kohn, rebranded in 2019 to reflect its wider ambition in the snacks category, as it expanded beyond popcorn with a range of better-for-you chips.
Revenues rocketed 50% to £24m in 2020, despite the loss of out-of-home sales due to the pandemic, driven by an explosion in takehome demand for its products, particularly the lentil-based Properchips ranges, as consumers reached for healthier snacks. It follows sales growth of 25% in 2019.
Launched in 2014, Eat Real has a range of lentil, quinoa and hummus chips and is part of the Indian snacks group Cofresh, which Exponent acquired in June 2020 and incorporated into its Vibrant Foods platform.
The Vibrant group also includes ethnic wholesalers East End Foods and TRS Foods, but this deal is expected to result in a more mainstream play
The move would create Europe's largest and fastest-growing better-for-you snacking group, Exponent said.
Although full details have yet to be finalised, it's understood the two businesses will continue as separate brands but will benefit from an accelerated innovation pipeline and shared strengths in the category.
Stavrou will remain in a senior leadership position and sit on the board of the new company, with Proper retaining its London HQ. Kohn left the business in May 2020 to pursue other opportunities.
"While our brands will remain distinct, we have a shared goal to take healthy snacking mainstream and global," Stavrou said. "This partnership will amplify every arm of the business. I can't wait to get started."
"After 10 years of building Proper, choosing the right partner for our next chapter meant everything to me. This marks a big moment for this company and our category."
Private equity house Piper and JamJar, which invested £7m in Proper in 2016, will exit the business as a result of the deal.
Stavrou added: "We'd like to thank Piper and JamJar for their expertise in helping us take Proper to new heights. Working with Exponent and Eat Real to achieve our vision was an opportunity too good to miss."
Investment bank Houlihan Lokey advised Proper on the deal.