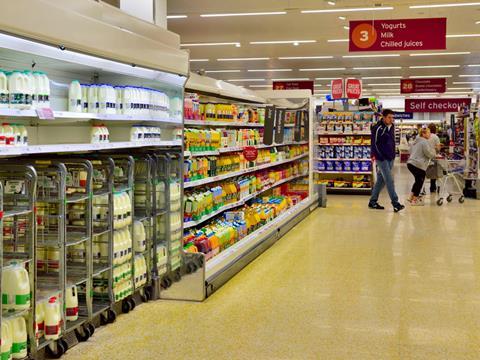 Tomlinsons Dairies, which supplies milk to Sainsbury's stores across Wales, has called in advisors to explore options for the business amid plummeting margins across the dairy sector.
It is understood increasingly tough market conditions prompted the Wrexham-based processor – which won the contract to supply own-label milk to Sainsbury's in 2016 – to appoint PwC partner Stephen Oldfield as an advisor during the summer.
The Grocer understands Tomlinsons directors have been in discussions with potential investors in the business, while a sale of the supplier has also not been ruled out. PwC declined to comment, while Tomlinsons did not respond to The Grocer's approach for comment.
Tomlinsons reported an 18.3% increase in pre-tax profits to £2.3m for the year to 31 March 2017. Turnover also grew, by 22.7% to £47.1m.
However, the amount owed to creditors within one year more than doubled to £11.1m, according to its accounts, while capital expenditure grew from £3.3m to £8.1m. Concerns were raised in the accounts that the business would need to increase its overdraft facility in 2018 "to meet its working capital requirements".
Its auditors added the existence of this "material uncertainty" may cast "significant doubt about the company's ability to continue as a going concern". Its 2018 accounts are due to be published later this month.
Industry sources have linked Müller to an acquisition of the business. However, the dairy giant has ruled out any interest in Tomlinsons.
'Concerned farmers'
Meadow Foods, based in nearby Chester, has been suggested as the other contender to either invest or buy the business, with sources suggesting it is already canvassing "concerned" Tomlinsons farmer suppliers across north Wales.
Meadow, which secured a strategic investment from private equity firm Paine Schwartz Partners in 2016 and further investment from PE house Exponent in August, declined to comment.
However, the dairy processor acquired Wrexham-based dairy ingredient supplier Roil Foods in February, and has publicly expressed its appetite to grow the business "through both organic expansion and acquisitions".
Tomlinsons' 100 million litre a year contract with Sainsbury's came into effect in July 2017 as part of a widening of its supply base, which also saw Medina pick up volumes.
Other sources have suggested Tomlinsons' "eyes were bigger than their stomach" when it bid for the Sainsbury's contract, which had added further pressure on its finances. Sainsbury's also declined to comment.
The supplier's difficulties follows a series of warnings of overcapacity in the UK liquid milk processing sector, with profits falling on the back of commodity price volatility and an increase in the cost of production exacerbated by this year's extreme weather.
One senior industry source suggested Müller's acquisition of the Dairy Crest milk division at the start of 2016 had done little to change the dynamics of a sector with "wafer-thin margins".
This led one processor, Hampshire-based Pensworth, to announce it would cease processing late last month, while average profit margins across the UK's seven biggest milk processors shrank from 0.97% in 2016 to just 0.14% last year, according to analysis by The Grocer of accounts lodged with Companies House.