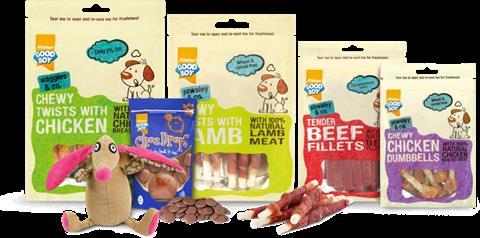 US consumer group Spectrum Brands has bought UK-based pet treat and toys specialist Armitage Pet Care for £140m.
Spectrum has bought the producer of Good Boy and Meowee from private equity investor Rutland Partners.
Rutland bought premium-end treating player Armitage in September 2017 and has grown its value almost six-fold to an enterprise value of £140m.
The Grocer revealed in September that Rutland had tasked PwC with handling a sales process for Armitage.
Spectrum said Armitage generated over $80m (£61.5m) in net sales over the past 12 months and joins its pet range including Nature's Miracle pet mess clean-up products, Furminator deshedding tools and SmartBones rawhide-free dog chews.
Spectrum also manufactures the Iams brand in Europe, while Mars owns the brand in the US and Latin America.
"We are very excited to add a market leader in dog and cat chews and treats to our highly successful and fast-growing Global Pet Care business unit," said Spectrum CEO David Maura. "Over the last few years, Armitage has grown sales at a 17% compound annual rate. We expect that our global scale and resources will not only help fuel future growth of the Armitage brands within the UK and across Continental Europe and beyond, but will also strengthen its e-commerce business."
Rutland said it had "transformed the capabilities of the business" during its ownership period, including the recruitment of a new CEO, Mark Andrews, and significant investment to support and drive above-market growth.
This investment included a warehouse move to an outsourced solution, a new ERP IT system and a total overhaul of the supply chain function, as well as funding NPD in core dog treats and the launch of a premium cat treats range.
Ben Slatter, partner at Rutland, said: "Armitage has delivered consistent growth by developing on‐trend premium natural products in a very attractive niche within the pet category. We worked closely with the team at Armitage to provide everything the business required to create a strong platform to fuel this growth.
Armitage CEO Mark Andrews added: "Together we have achieved a total transformation of Armitage… Looking forward we are extremely well-placed to continue to grow our brands and build on our market-leading position."
The deal follows strong activity in the sector in 2020, with Forthglade's £50m sale to European investment firm IK Investment Partners in September, Lily's Kitchen being bought by Nestlé Purina and a £20m fundraising of online brand Butternut Box in February.