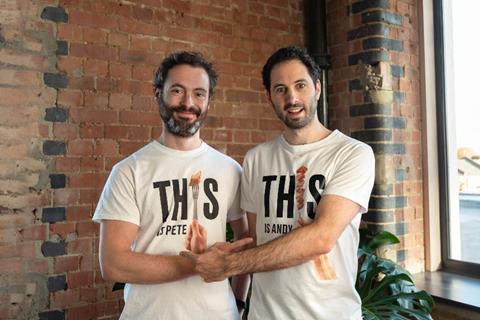 Plant-based brand This has sold a minority stake to ITV in return for up to £4m worth of advertising across the station's channels.
As part of its Media for Equity investment fund, ITV AdVentures Invest agreed to subscribe for £1.5m of shares in This, with the option for two additional tranches.
It is the broadcaster's first investment in the food space.
This co-founder and co-CEO Andy Shovel called ITV "a media powerhouse" and said the deal was "super exciting".
"Not only did we get to make the porkiest plant-based TV ad ever, the scale of the investment means we can reach audiences across the country and get closer to making meat-free the norm," he added.
The advert is set to be broadcast at some point in the coming months, but the release date is yet to be confirmed as it goes through the process of getting regulatory clearance.
ITV AdVentures director Sheena Amin said that with a "distinctive brand personality" she was confident the upcoming TV campaign on ITV's channels and streaming service ITVX would "stand out from the crowd and help the brand become a worthy household name".
"As the fastest-growing plant-based brand in the UK over the last two years, with broad retail distribution and strong product innovation, This is very well positioned to continue its strong growth within the plant-based meat alternatives sector," she added.
"We expect consumer demand for conscious consumption to continue to grow and as a certified B Corp, with a broad set of products at attractive price points, This is the perfect brand to help make conscious eating accessible to all."
Launched in 2021, ITV AdVentures Invest takes minority stakes in early-stage digital and direct-to-consumer businesses, alongside venture capital investment, in return for advertising inventory.
This is the fourth Media for Equity investment that ITV has made this year, following architectural design company Resi, pet health and wellness company PitPat, and pain relief brand Flarin.
Amin said the fund was "really seeing the benefit of using the power of TV to help brands at a scale-up stage supercharge their growth".
This – formed in 2019 by Shovel and Pete Sharman – has received significant external investment to fuel its rapid growth, securing around £35m from private and crowd backers over several rounds.
The brand is known for its range of 'hyper-realistic' meat alternatives and earlier this year topped Alantra's annual Fast 50 ranking of the country's fastest-growing food and drink companies.
The latest Grocer plant-based category report showed This had bucked the downward sales trend for vegan brands, registering a 38.9% jump in value and selling an additional 1.5 million units [NIQ 52 w/e 15 July 2023].
This also forecast revenues would hit £20m this year, a more than 50% increase on 2022.