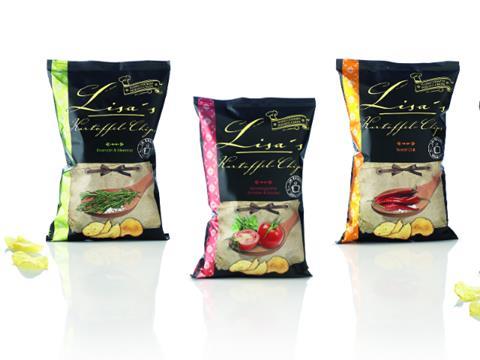 Tyrrells has made its first European acquisition after snapping up German organic crisp maker Aroma Snacks for an undisclosed sum.
The acquisition will give Tyrrells a manufacturing base in continental Europe and comes just eight months after its first international acquisition, when it bought Australian organic snacks company Yarra Valley Snack Foods.
Aroma is one of Germany's largest organic crisp producers and owns the Lisa's Hand-Cooked Chips brand.
The deal increases the number of Tyrrells manufacturing sites to five globally. Tyrrells said the acquisition provides it with a "manufacturing platform to build on its success in Germany, support accelerated sales across Europe and build its organic capabilities".
The acquisition propels Germany to Tyrrells' largest European market, followed by France, where Tyrrells is the number one premium crisp brand.
Tyrrells said the German organic market is the second biggest in the world after the USA, followed by France and UK.
David Milner, Tyrrells CEO commented: "We are delighted to increase our capabilities in Europe as well as to boost our organic expertise with this acquisition. Tyrrells is now in an excellent position to ensure we continue to meet growing demand for Tyrrells in continental Europe."
The deal also marks another step in Tyrrells' stated aim to become a "genuinely international business with manufacturing capabilities in other markets".
There are currently seven Tyrrells crisp flavours available in Germany: the most popular of which is Sea Salt & Cider Vinegar, as well as eight Lisa's Organic crisp flavours.
In its last financial year to 27 March 2015 Tyrrells grew its revenues by more than 22% to £49.3m. International sales grew by 14% to over £10m but this growth was outstripped by 24.5% growth in UK sales to £39.3m.
Tyrrells said its brand value was set to reach £230m this year, with AC Nielsen reporting that Tyrrells value sales in the UK have risen by 17% in the past year.
Tyrells recorded growth in EBITDA before exceptional items of 44% to £11.5m in its last financial year.
Jochen Krumm, MD of Aroma added: "I am delighted to be working with Tyrrells and look forward to realising our combined growth potential. We are very excited about the opportunities that this acquisition presents both nationally and internationally."
The Aroma deal is the second major acquisition since Tyrrells was bought by Bahraini private-equity fund Investcorp for £100m from Langholm Capital in August 2013.