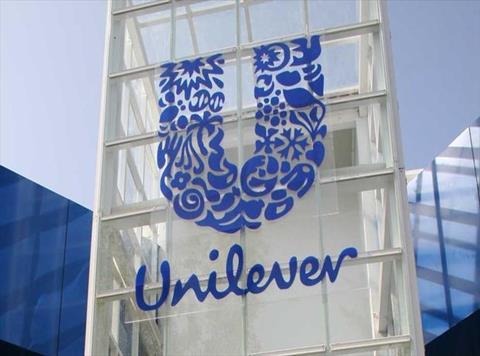 Unilever has this morning signalled its intent to reposition its porfolio into higher growth categories and called the GlaxoSmithKline consumer healthcare division "a strong strategic fit" for the group.
The group set out a new strategy that included selling off "intrinsically" lower growth brands and businesses to focus more on expanding its presence in health, beauty and hygiene, as well as leveraging its presence in emerging markets.
It follows the Hellmann's to Persil maker confirming press reports over the weekend of its interest in GSK's consumer arm.
GSK also confirmed Unilever had approached it with three unsolicited, conditional and non-binding proposals, with the latest received on 20 December for £50bn, which GSK said "fundamentally undervalued" the division.
Unilever looked set to continue its pursuit of the GSK division, with a statement this morning calling the consumer health arm "a highly complementary category for Unilever, with good potential for synergies and a number of routes to build scale".
It added that GSK consumer healthcare would be "a strong strategic fit" as 45% of its portfolio is in oral care, with brands such as Sensodyne and Aquafresh, and vitamins, minerals and supplements.
Over-the-counter medicine would be "an attractive adjacent category", with the ability to combine Unilever's consumer and branding expertise with GSK Consumer Health's technical OTC capabilities, the group said.
"The acquisition would create scale and a growth platform for the combined portfolio in the US, China, and India, with further opportunities in other emerging markets.
"We believe that this would be an attractive and synergistic combination for the shareholders of Unilever, which would also deliver value and certainty for the shareholders of GSK and Pfizer."
Analysts don't agree with Unilever's assessment, with Bruno Monteyne of Bernstein downgrading the stock to 'underperform'. The broker said a potential GSK deal did not make sense and was "a very bad deal for Unilever shareholders".
Unilever shares slumped 6% to 3,704.2p as markets opened this morning, while GSK soared 5.3% to 1,727.2p.
Unilever has come under pressure from investors following a more than 10% slump in value over the course of the last year.
This morning the group said, as well as addressing its long-term strategic direction, it had been focused on accelerating growth within the existing business.
It added that later this month it would announce "a major initiative" to enhance performance and, after a comprehensive review of its organisation structure, it intended to move away from the existing matrix to an operating model that would "drive greater agility, improve category focus, and strengthen accountability".
"The management and board of Unilever remain focused on continuing to build momentum across the business and reshaping the company for a strong and sustainable future."
Morning update
Revenues at drinks group Distil have slumped 28% for the nine months to the end of 2021 as it lapped figures inflated by Covid lockdowns and consumer stockpiling from a year previous.
However, the top line remained 23% higher than pre-pandemic figures and the longer-term trend for the company was "positive".
The owner of RedLeg Spiced Rum, Blackwoods Gin and Vodka, TRØVE Botanical Vodka and Blavod Black Vodka also flagged that unaudited year-on-year third quarter (October to December 2021) revenues decreased by 32%, but in that period it also reduced support for deep-cut promotional activity in the UK in favour of a longer-term beneficial move to more premium positioning for its key brands.
Executive chairman Don Goulding said: "Outlook for the full year remains difficult to forecast accurately due to the varying levels of restrictions across the UK and in our key export markets together with mixed economic forecasts although we are anticipating Q4 growth as we lap strong but not extraordinary comparisons."
The FTSE 100 has started the week on the front foot, rising 0.6% to 7,589.58pts.
Risers this morning include McColl's Retail Group, up 3.2% to 10.5p, Reckitt Benckiser, up 2% to 6,319p, and Compass Group, up 1.8% to 1,748.5p.
Early fallers alongside Unilever include Deliveroo, down 0.6% to 167.9p, Greggs, down 0.6% to 2,695.3p, and Kerry Group, down 1% to €112.15.
This week in the City
The flurry of Christmas trading updates continues this week, with tomorrow bringing a highly anticipated fourth-quarter report from embattled THG, as well as festive trading from Hotel Chocolat.
Wednesday will see WH Smith host its AGM, while over in the US Procter & Gamble unveils quarterly numbers.
Thursday includes updates from Primark owner Associated British Foods and Premier Foods.
Friday rounds off the week with the closely watched GFK Consumer Confidence survey and the ONS retail sales figures for December.