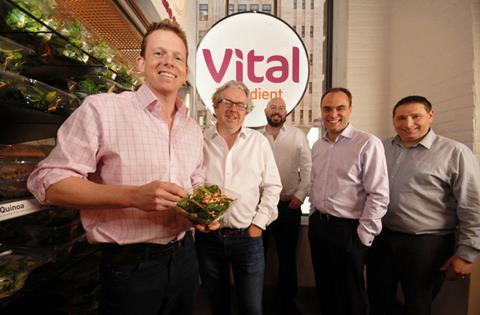 Healthy food-to-go chain Vital Ingredient is set to roll-out across the UK from its London heartland after a management buyout backed by a more than £8m investment from private equity firm LDC.
Founder Alex Heynes opened the first store in London's West End in 2001 and the business now operates 17 sites in the capital with more than 200 staff. Vital Ingredient has more than doubled revenues in the past three years to more than £12m thanks to increasing consumer demand for healthy food on the go.
In addition to its retail outlets, the business also runs an online delivery service and a click and collect offering.
The deal, which also includes an extra £4m expansion funding from Santander, will enable growth in London and across the UK into new cities across.
LDC, which invested in Seabrook Crisps last year and also has Ministry of Cake in its portfolio, is backing the Vital Ingredient management to more than double the estate within the next three years to at least 35 stores. It will also be introducing new store formats and exploring new brand partnerships as part of its growth strategy.
The buyout team, led by Alex Heynes, includes MD Paolo Peretti and finance director John Moulton.
Peretti said: "We have seen rapid growth in recent years in line with the ever-increasing demand for on-the-go, healthy eating. Our brand sits right at the heart of that market, providing thousands of people with convenient options that also provide quality nutritional content and maximum choice. Having the support of an experienced and supportive investment partner like LDC will give us the additional firepower needed to secure new stores and accelerate growth."
The transaction was led by LDC investment directors Simon Hemley, Alistair Pendleton, and Peter Latham, with Hemley and Pendleton joining the board as non-executive directors. Private investor Paul Oberschneider has sold his stake in the business.
Graham Turner, former CEO of restaurant group Tragus – whose brands included Café Rouge, Strada and Bella Italia – will join the board as non-executive chairman.
Simon Hemley added: "Vital Ingredient has a strong platform for growth. We have been impressed by strong customer feedback and believe we have identified a business with an ambitious leadership team and unique market proposition that taps into modern day consumer eating habits."